Posted on 9/23/2012
Examples Of How Milt Shook "Mostly Stayed Out of This Whole Shoq Business"
Note: Below are a small sampling of his hundreds of tweets in just the past few weeks. He's deleted many since. Watch him pivot from being an "observer" with no agenda, to a staunch advocate for the women on just one side of this intense Twitter melodrama. These are just a few blatant examples of his involvement, hypocrisy, and agenda.
See Also: A Log of all of his tweets (even many he thought that he'd deleted).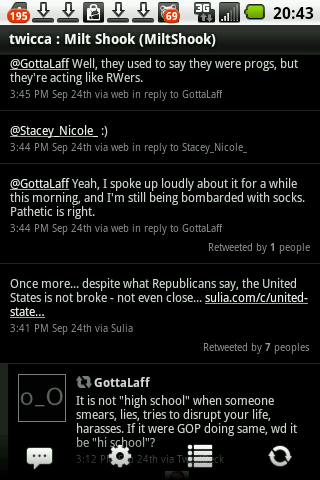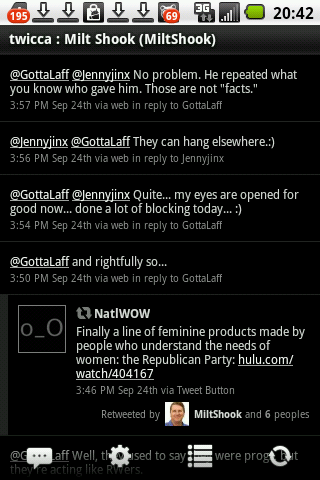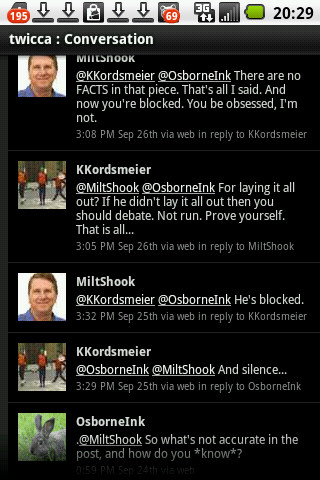 \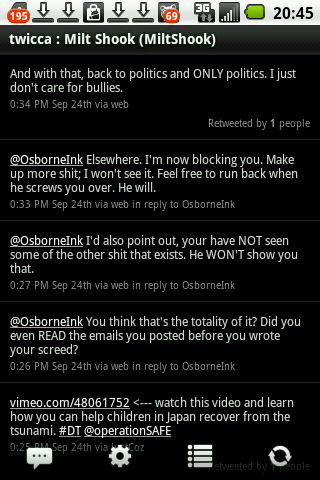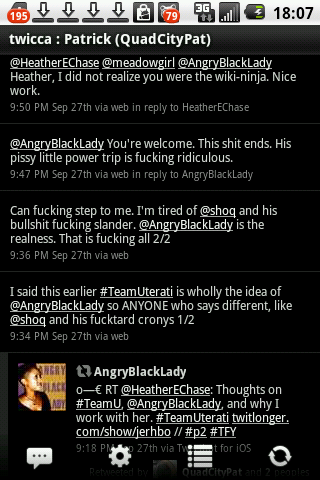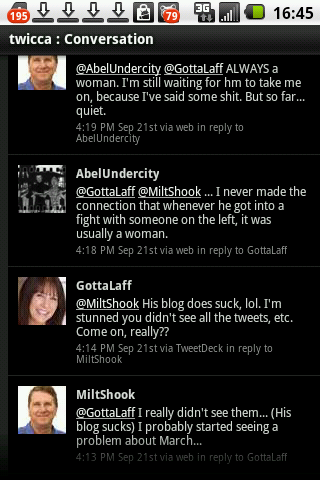 Milt Shook's recent tweet log (including many he's since deleted)
A glimpse at how our gallant "outsider" has stayed out of all this drama that was tearing up Twitter—a drama which he was instrumental in nurturing or accelerating at many key moments.
Note all the effort he puts into alternating between whipping up drama, and posturing that he's above it all and it should "just end." Also note the doting attention he gives to women of the Twitter Brigade (as Osborne calls them), who have relentlessly attacked shoq since August 6th. Not every single tweet listed is about this melodrama. But the vast majority of them are.
Jump to mentions of:
bully @vdaze @shoq @angryblacklady @honeybadgerLA @gottaLaff @jennyjinx @stranahan @osborneink @karoli
Mentions only of "@vdaze" since August 16th, 2012 (192 hits in only past 17 days)
Line 11: @vdaze When he purges the two blogs of all that shit, then I'll believe his statement about "eye-for-an-eye". Tue Oct 02 19:20:57 +0000 2012
Line 27: @Kernelwars @keriRN @GottaLaff @vdaze @Jennyjinx Agreed. Tue Oct 02 18:47:54 +0000 2012
Line 40: @Kernelwars @GottaLaff @vdaze @Jennyjinx He's telling everyone that's the case, but no. It's not. Tue Oct 02 18:27:07 +0000 2012
Line 44: @GottaLaff @vdaze @Jennyjinx He's still referring to the piece I wrote as a "hit piece." Where's the hit? I showed the bullying. Tue Oct 02 18:23:25 +0000 2012
Line 47: @vdaze But you'll notice… he walked back his "eye for an eye" against a man. No problem with "eye for an eye" against women, apparently. Tue Oct 02 18:17:40 +0000 2012
Line 48: @vdaze @GottaLaff Ewww… I'm glad I didn't take a screenshot of that. There went my lunch. :) Tue Oct 02 18:16:35 +0000 2012
Line 60: @Semishark @Jennyjinx @myownpetard @vdaze something like that… Tue Oct 02 17:28:28 +0000 2012
Line 75: @myownpetard @vdaze He's a pig and he's a bully, and more need to know it. Tue Oct 02 16:26:16 +0000 2012
Line 76: @vdaze Nothing he does is funny. My name is, a little. Tue Oct 02 16:24:56 +0000 2012
Line 82: @vdaze Unfortunately, this is my name… le sigh… maybe I should change it? :) Tue Oct 02 16:13:01 +0000 2012
Line 83: @vdaze I'm just laughing my ass off. "Authorities have been contacted" is now "libelous"? Good thing I peed earlier. Tue Oct 02 16:11:50 +0000 2012
Line 183: @vdaze I did. He's obviously rejected it. :) Tue Oct 02 01:34:19 +0000 2012
Line 229: @vdaze :-) Mon Oct 01 21:17:22 +0000 2012
Line 253: @Tymlee @vdaze @WarriorBanker I bet he did. He's sure trying hard to prove he's not a bully, huh? (Think he'll ever get it?) Mon Oct 01 18:23:02 +0000 2012
Line 258: @Tymlee @vdaze @WarriorBanker The shit he said to you from his "retort ID" is really strong evidence. And yes, I have a screenshot. :) Mon Oct 01 18:15:25 +0000 2012
Line 304: @vdaze Oh, thanks. I thought someone was exaggerating… Mon Oct 01 04:44:05 +0000 2012
Line 336: @vdaze Irony deficiency seems to be common among some… Mon Oct 01 03:28:11 +0000 2012
Line 337: @vdaze Funny thing is, he's submitting evidence with every Tweet. :) Mon Oct 01 03:23:11 +0000 2012
Line 342: @vdaze Amazed at the fact that someone can claim a lack of evidence for 2 days, when the article IS the evidence. SMDH. Mon Oct 01 02:48:33 +0000 2012
Line 355: @vdaze ;-) Mon Oct 01 01:27:41 +0000 2012
Line 356: @vdaze Hands him a Prilosec STD. (Wait… Is that right?) Mon Oct 01 01:12:38 +0000 2012
Line 370: @vdaze Everything is ignorable if it comes from an inconsequential troll… Mon Oct 01 00:34:25 +0000 2012
Line 388: @vdaze Yum. Sun Sep 30 20:37:01 +0000 2012
Line 389: @vdaze What were you herding? You are a herder, after all. Sun Sep 30 20:30:47 +0000 2012
Line 390: @vdaze So, during your nap, did you dream of herding cats? Sun Sep 30 20:26:43 +0000 2012
Line 410: @King_Gonad @vdaze Actually, I'd have more respect if he acknowledged some character flaws. He's like Dubya. Sun Sep 30 18:31:07 +0000 2012
Line 411: @vdaze :) you know what word I'm thinking right now Sun Sep 30 18:21:37 +0000 2012
Line 412: @vdaze #yup Sun Sep 30 18:20:52 +0000 2012
Line 414: @vdaze It isn't to me. Why others arent baffled baffles me. :) Sun Sep 30 18:18:07 +0000 2012
Line 417: @vdaze He wants "evidence" that he's a bully. He obviously didn't read what he's whining about. :) Sun Sep 30 18:14:07 +0000 2012
Line 420: @vdaze Just curious, but is it normal for someone to intimidate others to prove they're not a bully? :) Sun Sep 30 18:10:14 +0000 2012
Line 501: RT @Shoq: Folks, @MiltShook has done a hit piece for his friends @AngryBlackLady & @vdaze. When you see his role, you'll get it. #p … Sun Sep 30 03:41:16 +0000 2012
Line 558: @vdaze @Graypets Well, that was his original "apology." He hasn't actually apologized for anything. Fri Sep 28 14:39:04 +0000 2012
Line 566: @vdaze It's gone way beyond shameful. Fri Sep 28 12:39:32 +0000 2012
Line 567: @vdaze And the longer he goes on, the worse he looks. Fri Sep 28 12:37:57 +0000 2012
Line 600: @vdaze @brandibax I will… want some? :) Thu Sep 27 22:53:00 +0000 2012
Line 602: @vdaze @brandibax Crap. Now I want an order of sweet potato fries. See what you did? :) Thu Sep 27 22:40:40 +0000 2012
Line 603: @vdaze @brandibax That's true. Most of the people who don't like me don't even know each other. Thu Sep 27 22:28:17 +0000 2012
Line 616: @vdaze @AngryBlackLady @HoneybadgerLA The lyrics are stunningly accurate. :) Thu Sep 27 19:05:49 +0000 2012
Line 620: I wanna Rule The World: http://t.co/SwaGG0VZ //When I hear this these days, I think of a black cat @vdaze @angryblacklady @honeybadgerla Thu Sep 27 18:41:59 +0000 2012
Line 652: @vdaze Oh, is that it? Their ringleader is trying to convince all of that, is he? Thu Sep 27 15:17:33 +0000 2012
Line 659: @vdaze Still plotting and scheming? :) Thu Sep 27 14:38:44 +0000 2012
Line 676: @vdaze :-) Thu Sep 27 05:30:49 +0000 2012
Line 677: @vdaze ahem. Good night. :) Thu Sep 27 05:29:52 +0000 2012
Line 678: @meadowgirl @vdaze @King_Gonad I wouldn't believe anything he "admitted." Thu Sep 27 05:29:08 +0000 2012
Line 686: @King_Gonad @vdaze I know… I'm sorry… I was sending a "subtle message." :) Thu Sep 27 04:37:16 +0000 2012
Line 687: @vdaze @HoneybadgerLA Are you kidding? He orchestrates every word. I'll save details for my testimony, though. Thu Sep 27 04:34:47 +0000 2012
Line 688: @vdaze @King_Gonad There aren't even any facts in the piece. Don't need proof for speculation. Well, unless you're sued for defamation. Thu Sep 27 04:33:54 +0000 2012
Line 689: @vdaze Hey, I was just about to call it insane. Who believes this crap? Thu Sep 27 04:32:38 +0000 2012
Line 720: @DkChoco @vdaze Have you noticed I'm not discussing this bullshit obsessively? Apparently not. Blocked. Wed Sep 26 19:10:19 +0000 2012
Line 768: @BrnEyeSuss @vdaze Their life is fine. Everyone is free to ignore them. I ignored Shoq and Osborne and life is good again. Wed Sep 26 01:15:58 +0000 2012
Line 777: @BrnEyeSuss @vdaze I've posted 450 Tweets today, three on this. She's protected. You only see them cuz you want to. Wed Sep 26 01:05:39 +0000 2012
Line 778: @vdaze And warped. :) Wed Sep 26 01:02:31 +0000 2012
Line 779: @vdaze When I pointed that out to the author, heasked me me to prove that what he said was wrong. He even sucks at being the prog TMZ. Wed Sep 26 01:00:45 +0000 2012
Line 780: @vdaze Everyone with half a brain is friends with Imani… hey, I have half a brain. :) Wed Sep 26 00:54:45 +0000 2012
Line 781: @vdaze I knew it, and I hardly paid attention… :) Wed Sep 26 00:54:02 +0000 2012
Line 782: I'll start. @vdaze Is it true you're actually a woman? :) Wed Sep 26 00:52:39 +0000 2012
Line 783: Y'know, if ya wanna know something about @vdaze, why rely on info from two men who've admittedly never met her? Ask her. Just sayin… Wed Sep 26 00:51:49 +0000 2012
Line 800: @vdaze @brandibax Dat was a perfeck Bawlmer accent. Tue Sep 25 22:15:29 +0000 2012
Line 801: @vdaze Who? Me? #heaskedinnocently Tue Sep 25 22:11:39 +0000 2012
Line 805: @vdaze @raine1967 @AngryBlackLady It's proof anyone can have a "show" these days. Makes me rethink democracy. :) Tue Sep 25 21:21:10 +0000 2012
Line 889: @vdaze If you have to ask someone, "Do I seem like a bully to you?" the question doesn't even need an answer.. :) Tue Sep 25 16:33:17 +0000 2012
Line 943: @vdaze Short and sweet. The post, I mean… :-) Mon Sep 24 22:10:36 +0000 2012
Line 1009: @OsborneInk @DAbitty No one, including @vdaze, has declared Jessica innocent on this. An ACTUAL apology would clear this up. Mon Sep 24 16:15:56 +0000 2012
Line 1017: @OsborneInk @D_v_E @vdaze Regardless, Edelstein isn't a victim, either. Did you actually READ his "apology"? Where's the fucking apology? Mon Sep 24 16:06:31 +0000 2012
Line 1042: @vdaze I just read all four. Most frightening is, they don't seem to know what a "fact" is. Mon Sep 24 11:24:30 +0000 2012
Line 1044: @vdaze Good night. We shall prevail, with or without black cats. Mon Sep 24 04:36:59 +0000 2012
Line 1050: @Spectricide @vdaze I'd rather Twitter be an autonomous collective. (Feel like I'm channeling Monty Python) Mon Sep 24 03:14:59 +0000 2012
Line 1051: RT @larrymadill: @MiltShook @vdaze Twitter doesn't need a King. Twitter needs more men who don't treat women like shit. #andISaidtoomuch Mon Sep 24 03:14:02 +0000 2012
Line 1052: @vdaze Oh, well, time for an overthrow… Actually, on 15k follow, maybe it's not necessary… :) Mon Sep 24 03:13:32 +0000 2012
Line 1053: @vdaze There's a Twitter king? I didn't vote for him… Mon Sep 24 03:09:31 +0000 2012
Line 1060: @vdaze my sentiments exactly :) Mon Sep 24 01:30:37 +0000 2012
Line 1061: @vdaze But it's ten minutes to Tina Fey and Jon Hamm! Mon Sep 24 01:18:18 +0000 2012
Line 1076: @GottaLaff @vdaze I always thought it was just a product of growing up. You can only blame others for so long… Sun Sep 23 21:10:55 +0000 2012
Line 1077: @GottaLaff @vdaze How does someone get to be his age and not understand that we OWN everything we say or do? I got that when I was 25… Sun Sep 23 21:05:58 +0000 2012
Line 1079: @Picassokat @vdaze That might require being away from Twitter. Sun Sep 23 19:48:11 +0000 2012
Line 1081: @vdaze Bet he slipped him a $5 bill. :) Sun Sep 23 19:30:45 +0000 2012
Line 1082: @Semishark @vdaze Greenwald's a Libertarian, and Moore's become a carnival barker. He's not even close to as important as them. Sun Sep 23 19:28:35 +0000 2012
Line 1083: @vdaze I had no idea I was saving them. Funny, though, how someone's OWN WORDS can be seen as a weapon, though, huh? :) Sun Sep 23 19:24:59 +0000 2012
Line 1084: @vdaze @Shopaholic_918 I'm happy to say, I don't have a leader… Don't need one. :) Sun Sep 23 19:23:10 +0000 2012
Line 1085: @vdaze I know, huh? I just realized I have VMs from when I first bought the phone. :) Sun Sep 23 19:21:56 +0000 2012
Line 1086: @vdaze Here's the thing. You're not a progressive just because you say you are. You have to live it. That means caring for ALL people. Sun Sep 23 19:20:50 +0000 2012
Line 1087: @vdaze Amen to that! I wish I could RT that, cuz you Tweeted that REAL hard. :) Sun Sep 23 19:19:44 +0000 2012
Line 1125: @vdaze Bring it here, too. I discovered my local supermarket carries Vegemite… :-) Sat Sep 22 23:50:39 +0000 2012
Line 1126: @vdaze Not necessary on my account. :-) Sat Sep 22 21:51:23 +0000 2012
Line 1154: @vdaze He seems to think there are "facts" that would make him right. There are not. Period. Sat Sep 22 15:31:23 +0000 2012
Line 1155: @vdaze I would also note that no one is ganging up on him. It's his behavior we object to. He won't really own it. Sat Sep 22 15:30:49 +0000 2012
Line 1167: @vdaze :-) Sat Sep 22 00:49:31 +0000 2012
Line 1168: @vdaze Yes Dear… :-) Sat Sep 22 00:47:01 +0000 2012
Line 1169: @vdaze I don't have any. I guess I should go to the store… :) Sat Sep 22 00:40:30 +0000 2012
Line 1191: @rebeccayorkart @GottaLaff @francie57 @vdaze Me too… I can promise one thing; I will no longer remain quiet. I am paying attention. Fri Sep 21 20:36:48 +0000 2012
Line 1192: @francie57 @rebeccayorkart @GottaLaff @vdaze I thought that was Al Gore… Fri Sep 21 20:34:41 +0000 2012
Line 1193: @GottaLaff @francie57 @rebeccayorkart @vdaze Yeah, but fans aren't as important as friends. ;) Fri Sep 21 20:34:19 +0000 2012
Line 1194: @francie57 @rebeccayorkart @GottaLaff @vdaze If only. He's his biggest fan. :) Fri Sep 21 20:32:07 +0000 2012
Line 1208: @GottaLaff @vdaze I only started seeing this crap in the last few months. I apologize for my ignorance… Fri Sep 21 20:09:51 +0000 2012
Line 1209: @vdaze :-) Fri Sep 21 20:07:45 +0000 2012
Line 1210: @vdaze @GottaLaff Both of you are awesome… I have all backs. :) Fri Sep 21 20:07:14 +0000 2012
Line 1220: @vdaze Single mistakes are easily forgiven. Patterns require a signoficant mea culpa and a change in behavior. Just sayin… Fri Sep 21 17:52:08 +0000 2012
Line 1246: @vdaze @janieo was going to say "squirter" but that can't be right. Fri Sep 21 03:02:36 +0000 2012
Line 1247: @vdaze :-) if you ever block me, I will feel like I failed. Thu Sep 20 22:40:36 +0000 2012
Line 1248: @vdaze If I block someone, there's definitely a reason… :) Thu Sep 20 22:38:59 +0000 2012
Line 1290: @vdaze :-) no reason. continue. Thu Sep 20 01:42:25 +0000 2012
Line 1294: @HoneybadgerLA @vdaze The image of the merged head/ass is gonna give me nightmares. depending on where it merged… eeek.. Wed Sep 19 21:30:13 +0000 2012
Line 1298: @vdaze @AngryBlackLady @Karoli You know you don't have to thank me. :) Wed Sep 19 21:04:14 +0000 2012
Line 1299: @vdaze @AngryBlackLady @karoli Now, I'm going back to politics. It's not a soap opera. I just had to say that. FIVE is too many. Wed Sep 19 20:43:45 +0000 2012
Line 1300: @vdaze @AngryBlackLady @karoli I promised to stay out publicly, but I know of FIVE, and I'm so clueless, I had no idea re him/Jessica. Wed Sep 19 20:42:59 +0000 2012
Line 1301: @vdaze @AngryBlackLady @karoli Just gonna say this. I'm an outsider in all this, and there is a long, serious pattern of abuse by @Shoq. Wed Sep 19 20:41:33 +0000 2012
Line 1335: @vdaze Naw, he's too afraid. There's a lot of talk about whether or not that "secret video" was an illegal recording. :) Tue Sep 18 22:45:22 +0000 2012
Line 1514: @vdaze @AngryBlackLady My call would be "moronic," but "crazy" works, too Sun Sep 16 02:47:19 +0000 2012
Line 1515: @QuadCityPat @vdaze @AngryBlackLady I have to say, RJ is more obviously psychotic :) Sun Sep 16 02:46:42 +0000 2012
Line 1516: @AngryBlackLady @vdaze Well, that just showed you! Neener neener. Next, he'll endorse RJ Sun Sep 16 02:40:36 +0000 2012
Line 1524: @QuadCityPat @AngryBlackLady @anibundel @angryblacklady @vdaze I was curious, so I just checked. Came back 23 hrs ago. Friday. We all lose. Sun Sep 16 02:07:38 +0000 2012
Line 1525: @QuadCityPat @angryblacklady @vdaze @anibundel You mean, "paws"? #groanaway Sun Sep 16 02:00:12 +0000 2012
Line 1527: @vdaze :-) Sun Sep 16 01:43:32 +0000 2012
Line 1528: @vdaze I said Friday, it turned out to be Saturday. Do I win the pool? Sun Sep 16 01:01:12 +0000 2012
Line 1530: @vdaze Eh, I'll live… I'm tougher than I look :) Sat Sep 15 23:08:02 +0000 2012
Line 1531: @vdaze Well, I've been at about 50% health today, so I can justify. :) Sat Sep 15 23:05:31 +0000 2012
Line 1532: @vdaze Yes. We are. :P Sat Sep 15 23:03:34 +0000 2012
Line 1533: @vdaze I've taken two today… need two more, I think… :) Sat Sep 15 23:02:29 +0000 2012
Line 1594: @vdaze Thank you :) Thu Sep 13 23:11:56 +0000 2012
Line 1595: @vdaze BTW, they have another great place here called Planned Pethood. Wonder if the RW will try to shut it down. Thu Sep 13 23:11:30 +0000 2012
Line 1596: @vdaze Yeah, I think he'll be okay in a few days… Thu Sep 13 23:10:34 +0000 2012
Line 1618: @vdaze @DailyDriveler Certainly an appropriate name in this context. :) Thu Sep 13 01:53:37 +0000 2012
Line 1652: @vdaze Most people with imaginary advisers could use a Xanax. Or three. Wed Sep 12 03:13:00 +0000 2012
Line 1656: @vdaze Women meddle? who knew? Wed Sep 12 01:47:48 +0000 2012
Line 1657: @D_v_E @vdaze My apologies… :) I'm likely to need Depends before you… Wed Sep 12 01:47:14 +0000 2012
Line 1664: @D_v_E @vdaze You weren't the one making the "test leaks." Wed Sep 12 01:37:57 +0000 2012
Line 1666: @D_v_E @vdaze Depends? Wed Sep 12 01:34:01 +0000 2012
Line 1677: @vdaze I'm pretty well guided… :) Wed Sep 12 00:36:07 +0000 2012
Line 1690: @vdaze Oh, so now you laugh at me… real nice… :P Tue Sep 11 19:53:54 +0000 2012
Line 1694: @vdaze No. I can't. I'm too big a wuss. ;) Tue Sep 11 19:20:38 +0000 2012
Line 1746: @vdaze As I always say… joke 'em if they can't take a fuck. :) Mon Sep 10 22:18:45 +0000 2012
Line 1747: @vdaze His "henchman" will probably step it up… but he's really a non-entity… Mon Sep 10 22:17:47 +0000 2012
Line 1753: @vdaze @Semishark Unbelievable… And yet, not really. Mon Sep 10 21:53:15 +0000 2012
Line 1787: @vdaze @markbachrach Yes, but he's killing her softly… with his song… Mon Sep 10 15:47:39 +0000 2012
Line 1795: @vdaze Peeplz is silly. Mon Sep 10 02:47:20 +0000 2012
Line 1796: @vdaze You in the habit of being threatened with baseless lawsuits? :) Mon Sep 10 02:44:13 +0000 2012
Line 1798: @vdaze Speaking of which, isn't this "normal". ;-) Mon Sep 10 02:35:31 +0000 2012
Line 1799: @vdaze Can you at least favorite the ones that aren't fucking? I'm desperate for attention. :) Mon Sep 10 02:35:00 +0000 2012
Line 1811: @AngryBlackLady @shopaholic_918 @vdaze I am not impressed with the level of self-destruction he seems intent on. Sun Sep 09 19:55:00 +0000 2012
Line 1813: @AngryBlackLady @Shopaholic_918 @vdaze Don't seem all that smart to me. :) Sun Sep 09 19:12:17 +0000 2012
Line 1844: @vdaze that would be worth seeing. :) Sun Sep 09 04:12:36 +0000 2012
Line 1845: @vdaze Nuh uh… I'll pertect y'all :) Sun Sep 09 04:05:56 +0000 2012
Line 1846: OMG OMG!!!! I lost two followers! Do people hate me? Am I overreacting? Do I sound like a little girl? @vdaze :) Sun Sep 09 04:04:08 +0000 2012
Line 1849: @vdaze Far as I can tell, he hasn't taken his own advice… Sun Sep 09 00:38:23 +0000 2012
Line 1851: @vdaze Did you know one of the keys ways to avoid cyberslander was to ignore the slanderer? :) Sun Sep 09 00:35:49 +0000 2012
Line 1852: @vdaze Wow, the pot is calling the kettle black for sure… Sun Sep 09 00:25:53 +0000 2012
Line 1869: @vdaze :P Sat Sep 08 23:17:41 +0000 2012
Line 1872: @vdaze You know, when I say I'm "letting it go," i actually let it go. Obsession is not a good trait… He needs to actually let it go. Sat Sep 08 21:27:38 +0000 2012
Line 1886: @vdaze @JustCindeh Shit. I tried to RT that, but I couldn't. Dayum… Sat Sep 08 03:29:44 +0000 2012
Line 1893: @vdaze Um, sure. She doesn't even know me/us. :) Sat Sep 08 03:00:34 +0000 2012
Line 1894: @vdaze Hope he didn't see that. He might beat me up. :) Sat Sep 08 02:58:15 +0000 2012
Line 1895: @vdaze Paranoia should not be taken lightly… Just sayin… Sat Sep 08 02:50:39 +0000 2012
Line 1896: @vdaze Bullying is bullying. period. There are no degrees. Although watching a grown man whine like a little girl is, um, interesting… Sat Sep 08 02:06:48 +0000 2012
Line 1906: @vdaze Jesus. This is just sad. Such a conspiracy you guys have… :) Sat Sep 08 00:11:47 +0000 2012
Line 1909: @AngryBlackLady @vdaze @dailydriveler @sherriegg They made me eat some when I was down under. Won't eat it twice. :) Fri Sep 07 23:44:53 +0000 2012
Line 1914: @vdaze Besides, I know your support doesn't come courtesy of socks. :) Fri Sep 07 22:57:02 +0000 2012
Line 1915: @vdaze Um, you're welcome? :) Fri Sep 07 22:53:05 +0000 2012
Line 1940: @vdaze I second that. I'd say she was adorable, but it might look like I overuse that word. :) Fri Sep 07 01:15:40 +0000 2012
Line 1973: @vdaze Heh. Thu Sep 06 03:25:14 +0000 2012
Line 1985: @vdaze @AngryBlackLady Oh, go ahead. Respond. You know you can say anything to me… I won't even call a lawyer. Thu Sep 06 01:59:51 +0000 2012
Line 1987: @vdaze @AngryBlackLady Nah… it's free :) Thu Sep 06 01:51:37 +0000 2012
Line 1989: @AngryBlackLady @vdaze Maybe that's it. I'm using Windows 8. :) Thu Sep 06 01:47:13 +0000 2012
Line 1990: @vdaze @AngryBlackLady I've never understood what white guys have to be angry about. Thu Sep 06 01:29:38 +0000 2012
Line 1992: @vdaze I guffawed at the request for a defamation lawyer… I'm glad I had just peed. Wed Sep 05 23:26:25 +0000 2012
Line 2005: @vdaze You know my side. I don't cotton to bullies. Period. Wed Sep 05 14:36:10 +0000 2012
Line 2006: @vdaze Good. :) Wed Sep 05 14:35:15 +0000 2012
Line 2050: @vdaze @AngryBlackLady <3 <3 for both of yas. Hang in… Tue Sep 04 23:43:34 +0000 2012
Line 2091: @vdaze Nope.:) Sun Sep 02 05:04:28 +0000 2012
Line 2105: @vdaze @janieo You're both just horrible. And I love you both dearly.. what's wrong with me? :) Fri Aug 31 23:24:40 +0000 2012
Line 2291: @vdaze The joys of working at home. hopefully, you're not near Perry Hall. I know Baltimorons well. Ppl will drive by just to "see it" today Tue Aug 28 12:35:59 +0000 2012
Line 2311: @vdaze Well, some people are just a little too prickly to be discoursing with others. Others are just pricks. :) Mon Aug 27 17:34:45 +0000 2012
Line 2314: @vdaze Some people just don't appreciate you… :) Mon Aug 27 16:39:44 +0000 2012
Line 2315: @vdaze Yeah, I know. Sorry about that… :) Mon Aug 27 16:32:37 +0000 2012
Line 2319: @vdaze You really do pay attention… :) Muah! Mon Aug 27 13:46:47 +0000 2012
Line 2447: @vdaze I know you do… Fri Aug 24 22:18:16 +0000 2012
Line 2448: @vdaze See, I'm one of those who understands that you don't know everyone you Tweet with… winkwinknudgenudge… meow. :) Fri Aug 24 22:10:57 +0000 2012
Line 2449: @vdaze If you need anything… wait… I don't know you, so I guess that proves you right… :) Fri Aug 24 22:07:27 +0000 2012
Line 2705: @vdaze @AngryBlackLady Better to be pissed off than pissed on… Sun Aug 19 03:22:17 +0000 2012
Line 2706: @AngryBlackLady @vdaze Wow. Deja vu! Sun Aug 19 03:21:41 +0000 2012
Line 2712: @vdaze Uh huh. :) Sun Aug 19 03:03:49 +0000 2012
Line 2714: @vdaze My point is, dearest Jessica, is that you're awesome because you speak your mind… sheesh. Sun Aug 19 03:02:08 +0000 2012
Line 2715: @vdaze Long time ago. I'm sure I deserved it. :) Sun Aug 19 03:00:48 +0000 2012
Line 2716: @vdaze Well, you have yelled at me before. Unlike many, I got over it. :) Sun Aug 19 02:59:39 +0000 2012
Line 2718: @vdaze Oh, don't I know it. :) Sun Aug 19 02:54:26 +0000 2012
Line 2720: @vdaze I actually prefer women who speak their mind. I'm weird that way. :) Sun Aug 19 02:52:22 +0000 2012
Line 2722: @vdaze Jessica… I will always follow you anywhere… :) Sun Aug 19 02:48:04 +0000 2012
Line 2729: @AngryBlackLady @vdaze Well, I'm not there. Are you sure you're not hearing voices? Sometimes, it's the cat… :) Sun Aug 19 02:30:20 +0000 2012
Line 2731: @AngryBlackLady @vdaze Why? You never call me… :P :) Sun Aug 19 01:46:45 +0000 2012
Line 2882: @vdaze Just stay the same… You're awesome. :) Thu Aug 16 02:48:31 +0000 2012
Line 2883: @vdaze Oh, please… I don't know you all that well, but even I know you do your own thing…:) Thu Aug 16 02:46:42 +0000 2012
Line 2888: @vdaze Wait… I'm still allowed, right? I mean, I try not to abuse the privilege. And it is a privilege. :) Thu Aug 16 02:31:35 +0000 2012
Search "vdaze angryblacklady" (0 hits in 0 files)
Search "vdaze" (192 hits in 1 files)
C:\Users\hal9\Documents\Dropbox\Public\vdaze_publish\miltshook\tweetmime-log-shooks-tweets-aug_sept.txt (192 hits)
Line 11: @vdaze When he purges the two blogs of all that shit, then I'll believe his statement about "eye-for-an-eye". Tue Oct 02 19:20:57 +0000 2012
Line 27: @Kernelwars @keriRN @GottaLaff @vdaze @Jennyjinx Agreed. Tue Oct 02 18:47:54 +0000 2012
Line 40: @Kernelwars @GottaLaff @vdaze @Jennyjinx He's telling everyone that's the case, but no. It's not. Tue Oct 02 18:27:07 +0000 2012
Line 44: @GottaLaff @vdaze @Jennyjinx He's still referring to the piece I wrote as a "hit piece." Where's the hit? I showed the bullying. Tue Oct 02 18:23:25 +0000 2012
Line 47: @vdaze But you'll notice… he walked back his "eye for an eye" against a man. No problem with "eye for an eye" against women, apparently. Tue Oct 02 18:17:40 +0000 2012
Line 48: @vdaze @GottaLaff Ewww… I'm glad I didn't take a screenshot of that. There went my lunch. :) Tue Oct 02 18:16:35 +0000 2012
Line 60: @Semishark @Jennyjinx @myownpetard @vdaze something like that… Tue Oct 02 17:28:28 +0000 2012
Line 75: @myownpetard @vdaze He's a pig and he's a bully, and more need to know it. Tue Oct 02 16:26:16 +0000 2012
Line 76: @vdaze Nothing he does is funny. My name is, a little. Tue Oct 02 16:24:56 +0000 2012
Line 82: @vdaze Unfortunately, this is my name… le sigh… maybe I should change it? :) Tue Oct 02 16:13:01 +0000 2012
Line 83: @vdaze I'm just laughing my ass off. "Authorities have been contacted" is now "libelous"? Good thing I peed earlier. Tue Oct 02 16:11:50 +0000 2012
Line 183: @vdaze I did. He's obviously rejected it. :) Tue Oct 02 01:34:19 +0000 2012
Line 229: @vdaze :-) Mon Oct 01 21:17:22 +0000 2012
Line 253: @Tymlee @vdaze @WarriorBanker I bet he did. He's sure trying hard to prove he's not a bully, huh? (Think he'll ever get it?) Mon Oct 01 18:23:02 +0000 2012
Line 258: @Tymlee @vdaze @WarriorBanker The shit he said to you from his "retort ID" is really strong evidence. And yes, I have a screenshot. :) Mon Oct 01 18:15:25 +0000 2012
Line 304: @vdaze Oh, thanks. I thought someone was exaggerating… Mon Oct 01 04:44:05 +0000 2012
Line 336: @vdaze Irony deficiency seems to be common among some… Mon Oct 01 03:28:11 +0000 2012
Line 337: @vdaze Funny thing is, he's submitting evidence with every Tweet. :) Mon Oct 01 03:23:11 +0000 2012
Line 342: @vdaze Amazed at the fact that someone can claim a lack of evidence for 2 days, when the article IS the evidence. SMDH. Mon Oct 01 02:48:33 +0000 2012
Line 355: @vdaze ;-) Mon Oct 01 01:27:41 +0000 2012
Line 356: @vdaze Hands him a Prilosec STD. (Wait… Is that right?) Mon Oct 01 01:12:38 +0000 2012
Line 370: @vdaze Everything is ignorable if it comes from an inconsequential troll… Mon Oct 01 00:34:25 +0000 2012
Line 388: @vdaze Yum. Sun Sep 30 20:37:01 +0000 2012
Line 389: @vdaze What were you herding? You are a herder, after all. Sun Sep 30 20:30:47 +0000 2012
Line 390: @vdaze So, during your nap, did you dream of herding cats? Sun Sep 30 20:26:43 +0000 2012
Line 410: @King_Gonad @vdaze Actually, I'd have more respect if he acknowledged some character flaws. He's like Dubya. Sun Sep 30 18:31:07 +0000 2012
Line 411: @vdaze :) you know what word I'm thinking right now Sun Sep 30 18:21:37 +0000 2012
Line 412: @vdaze #yup Sun Sep 30 18:20:52 +0000 2012
Line 414: @vdaze It isn't to me. Why others arent baffled baffles me. :) Sun Sep 30 18:18:07 +0000 2012
Line 417: @vdaze He wants "evidence" that he's a bully. He obviously didn't read what he's whining about. :) Sun Sep 30 18:14:07 +0000 2012
Line 420: @vdaze Just curious, but is it normal for someone to intimidate others to prove they're not a bully? :) Sun Sep 30 18:10:14 +0000 2012
Line 501: RT @Shoq: Folks, @MiltShook has done a hit piece for his friends @AngryBlackLady & @vdaze. When you see his role, you'll get it. #p … Sun Sep 30 03:41:16 +0000 2012
Line 558: @vdaze @Graypets Well, that was his original "apology." He hasn't actually apologized for anything. Fri Sep 28 14:39:04 +0000 2012
Line 566: @vdaze It's gone way beyond shameful. Fri Sep 28 12:39:32 +0000 2012
Line 567: @vdaze And the longer he goes on, the worse he looks. Fri Sep 28 12:37:57 +0000 2012
Line 600: @vdaze @brandibax I will… want some? :) Thu Sep 27 22:53:00 +0000 2012
Line 602: @vdaze @brandibax Crap. Now I want an order of sweet potato fries. See what you did? :) Thu Sep 27 22:40:40 +0000 2012
Line 603: @vdaze @brandibax That's true. Most of the people who don't like me don't even know each other. Thu Sep 27 22:28:17 +0000 2012
Line 616: @vdaze @AngryBlackLady @HoneybadgerLA The lyrics are stunningly accurate. :) Thu Sep 27 19:05:49 +0000 2012
Line 620: I wanna Rule The World: http://t.co/SwaGG0VZ //When I hear this these days, I think of a black cat @vdaze @angryblacklady @honeybadgerla Thu Sep 27 18:41:59 +0000 2012
Line 652: @vdaze Oh, is that it? Their ringleader is trying to convince all of that, is he? Thu Sep 27 15:17:33 +0000 2012
Line 659: @vdaze Still plotting and scheming? :) Thu Sep 27 14:38:44 +0000 2012
Line 676: @vdaze :-) Thu Sep 27 05:30:49 +0000 2012
Line 677: @vdaze ahem. Good night. :) Thu Sep 27 05:29:52 +0000 2012
Line 678: @meadowgirl @vdaze @King_Gonad I wouldn't believe anything he "admitted." Thu Sep 27 05:29:08 +0000 2012
Line 686: @King_Gonad @vdaze I know… I'm sorry… I was sending a "subtle message." :) Thu Sep 27 04:37:16 +0000 2012
Line 687: @vdaze @HoneybadgerLA Are you kidding? He orchestrates every word. I'll save details for my testimony, though. Thu Sep 27 04:34:47 +0000 2012
Line 688: @vdaze @King_Gonad There aren't even any facts in the piece. Don't need proof for speculation. Well, unless you're sued for defamation. Thu Sep 27 04:33:54 +0000 2012
Line 689: @vdaze Hey, I was just about to call it insane. Who believes this crap? Thu Sep 27 04:32:38 +0000 2012
Line 720: @DkChoco @vdaze Have you noticed I'm not discussing this bullshit obsessively? Apparently not. Blocked. Wed Sep 26 19:10:19 +0000 2012
Line 768: @BrnEyeSuss @vdaze Their life is fine. Everyone is free to ignore them. I ignored Shoq and Osborne and life is good again. Wed Sep 26 01:15:58 +0000 2012
Line 777: @BrnEyeSuss @vdaze I've posted 450 Tweets today, three on this. She's protected. You only see them cuz you want to. Wed Sep 26 01:05:39 +0000 2012
Line 778: @vdaze And warped. :) Wed Sep 26 01:02:31 +0000 2012
Line 779: @vdaze When I pointed that out to the author, heasked me me to prove that what he said was wrong. He even sucks at being the prog TMZ. Wed Sep 26 01:00:45 +0000 2012
Line 780: @vdaze Everyone with half a brain is friends with Imani… hey, I have half a brain. :) Wed Sep 26 00:54:45 +0000 2012
Line 781: @vdaze I knew it, and I hardly paid attention… :) Wed Sep 26 00:54:02 +0000 2012
Line 782: I'll start. @vdaze Is it true you're actually a woman? :) Wed Sep 26 00:52:39 +0000 2012
Line 783: Y'know, if ya wanna know something about @vdaze, why rely on info from two men who've admittedly never met her? Ask her. Just sayin… Wed Sep 26 00:51:49 +0000 2012
Line 800: @vdaze @brandibax Dat was a perfeck Bawlmer accent. Tue Sep 25 22:15:29 +0000 2012
Line 801: @vdaze Who? Me? #heaskedinnocently Tue Sep 25 22:11:39 +0000 2012
Line 805: @vdaze @raine1967 @AngryBlackLady It's proof anyone can have a "show" these days. Makes me rethink democracy. :) Tue Sep 25 21:21:10 +0000 2012
Line 889: @vdaze If you have to ask someone, "Do I seem like a bully to you?" the question doesn't even need an answer.. :) Tue Sep 25 16:33:17 +0000 2012
Line 943: @vdaze Short and sweet. The post, I mean… :-) Mon Sep 24 22:10:36 +0000 2012
Line 1009: @OsborneInk @DAbitty No one, including @vdaze, has declared Jessica innocent on this. An ACTUAL apology would clear this up. Mon Sep 24 16:15:56 +0000 2012
Line 1017: @OsborneInk @D_v_E @vdaze Regardless, Edelstein isn't a victim, either. Did you actually READ his "apology"? Where's the fucking apology? Mon Sep 24 16:06:31 +0000 2012
Line 1042: @vdaze I just read all four. Most frightening is, they don't seem to know what a "fact" is. Mon Sep 24 11:24:30 +0000 2012
Line 1044: @vdaze Good night. We shall prevail, with or without black cats. Mon Sep 24 04:36:59 +0000 2012
Line 1050: @Spectricide @vdaze I'd rather Twitter be an autonomous collective. (Feel like I'm channeling Monty Python) Mon Sep 24 03:14:59 +0000 2012
Line 1051: RT @larrymadill: @MiltShook @vdaze Twitter doesn't need a King. Twitter needs more men who don't treat women like shit. #andISaidtoomuch Mon Sep 24 03:14:02 +0000 2012
Line 1052: @vdaze Oh, well, time for an overthrow… Actually, on 15k follow, maybe it's not necessary… :) Mon Sep 24 03:13:32 +0000 2012
Line 1053: @vdaze There's a Twitter king? I didn't vote for him… Mon Sep 24 03:09:31 +0000 2012
Line 1060: @vdaze my sentiments exactly :) Mon Sep 24 01:30:37 +0000 2012
Line 1061: @vdaze But it's ten minutes to Tina Fey and Jon Hamm! Mon Sep 24 01:18:18 +0000 2012
Line 1076: @GottaLaff @vdaze I always thought it was just a product of growing up. You can only blame others for so long… Sun Sep 23 21:10:55 +0000 2012
Line 1077: @GottaLaff @vdaze How does someone get to be his age and not understand that we OWN everything we say or do? I got that when I was 25… Sun Sep 23 21:05:58 +0000 2012
Line 1079: @Picassokat @vdaze That might require being away from Twitter. Sun Sep 23 19:48:11 +0000 2012
Line 1081: @vdaze Bet he slipped him a $5 bill. :) Sun Sep 23 19:30:45 +0000 2012
Line 1082: @Semishark @vdaze Greenwald's a Libertarian, and Moore's become a carnival barker. He's not even close to as important as them. Sun Sep 23 19:28:35 +0000 2012
Line 1083: @vdaze I had no idea I was saving them. Funny, though, how someone's OWN WORDS can be seen as a weapon, though, huh? :) Sun Sep 23 19:24:59 +0000 2012
Line 1084: @vdaze @Shopaholic_918 I'm happy to say, I don't have a leader… Don't need one. :) Sun Sep 23 19:23:10 +0000 2012
Line 1085: @vdaze I know, huh? I just realized I have VMs from when I first bought the phone. :) Sun Sep 23 19:21:56 +0000 2012
Line 1086: @vdaze Here's the thing. You're not a progressive just because you say you are. You have to live it. That means caring for ALL people. Sun Sep 23 19:20:50 +0000 2012
Line 1087: @vdaze Amen to that! I wish I could RT that, cuz you Tweeted that REAL hard. :) Sun Sep 23 19:19:44 +0000 2012
Line 1125: @vdaze Bring it here, too. I discovered my local supermarket carries Vegemite… :-) Sat Sep 22 23:50:39 +0000 2012
Line 1126: @vdaze Not necessary on my account. :-) Sat Sep 22 21:51:23 +0000 2012
Line 1154: @vdaze He seems to think there are "facts" that would make him right. There are not. Period. Sat Sep 22 15:31:23 +0000 2012
Line 1155: @vdaze I would also note that no one is ganging up on him. It's his behavior we object to. He won't really own it. Sat Sep 22 15:30:49 +0000 2012
Line 1167: @vdaze :-) Sat Sep 22 00:49:31 +0000 2012
Line 1168: @vdaze Yes Dear… :-) Sat Sep 22 00:47:01 +0000 2012
Line 1169: @vdaze I don't have any. I guess I should go to the store… :) Sat Sep 22 00:40:30 +0000 2012
Line 1191: @rebeccayorkart @GottaLaff @francie57 @vdaze Me too… I can promise one thing; I will no longer remain quiet. I am paying attention. Fri Sep 21 20:36:48 +0000 2012
Line 1192: @francie57 @rebeccayorkart @GottaLaff @vdaze I thought that was Al Gore… Fri Sep 21 20:34:41 +0000 2012
Line 1193: @GottaLaff @francie57 @rebeccayorkart @vdaze Yeah, but fans aren't as important as friends. ;) Fri Sep 21 20:34:19 +0000 2012
Line 1194: @francie57 @rebeccayorkart @GottaLaff @vdaze If only. He's his biggest fan. :) Fri Sep 21 20:32:07 +0000 2012
Line 1208: @GottaLaff @vdaze I only started seeing this crap in the last few months. I apologize for my ignorance… Fri Sep 21 20:09:51 +0000 2012
Line 1209: @vdaze :-) Fri Sep 21 20:07:45 +0000 2012
Line 1210: @vdaze @GottaLaff Both of you are awesome… I have all backs. :) Fri Sep 21 20:07:14 +0000 2012
Line 1220: @vdaze Single mistakes are easily forgiven. Patterns require a signoficant mea culpa and a change in behavior. Just sayin… Fri Sep 21 17:52:08 +0000 2012
Line 1246: @vdaze @janieo was going to say "squirter" but that can't be right. Fri Sep 21 03:02:36 +0000 2012
Line 1247: @vdaze :-) if you ever block me, I will feel like I failed. Thu Sep 20 22:40:36 +0000 2012
Line 1248: @vdaze If I block someone, there's definitely a reason… :) Thu Sep 20 22:38:59 +0000 2012
Line 1290: @vdaze :-) no reason. continue. Thu Sep 20 01:42:25 +0000 2012
Line 1294: @HoneybadgerLA @vdaze The image of the merged head/ass is gonna give me nightmares. depending on where it merged… eeek.. Wed Sep 19 21:30:13 +0000 2012
Line 1298: @vdaze @AngryBlackLady @Karoli You know you don't have to thank me. :) Wed Sep 19 21:04:14 +0000 2012
Line 1299: @vdaze @AngryBlackLady @karoli Now, I'm going back to politics. It's not a soap opera. I just had to say that. FIVE is too many. Wed Sep 19 20:43:45 +0000 2012
Line 1300: @vdaze @AngryBlackLady @karoli I promised to stay out publicly, but I know of FIVE, and I'm so clueless, I had no idea re him/Jessica. Wed Sep 19 20:42:59 +0000 2012
Line 1301: @vdaze @AngryBlackLady @karoli Just gonna say this. I'm an outsider in all this, and there is a long, serious pattern of abuse by @Shoq. Wed Sep 19 20:41:33 +0000 2012
Line 1335: @vdaze Naw, he's too afraid. There's a lot of talk about whether or not that "secret video" was an illegal recording. :) Tue Sep 18 22:45:22 +0000 2012
Line 1514: @vdaze @AngryBlackLady My call would be "moronic," but "crazy" works, too Sun Sep 16 02:47:19 +0000 2012
Line 1515: @QuadCityPat @vdaze @AngryBlackLady I have to say, RJ is more obviously psychotic :) Sun Sep 16 02:46:42 +0000 2012
Line 1516: @AngryBlackLady @vdaze Well, that just showed you! Neener neener. Next, he'll endorse RJ Sun Sep 16 02:40:36 +0000 2012
Line 1524: @QuadCityPat @AngryBlackLady @anibundel @angryblacklady @vdaze I was curious, so I just checked. Came back 23 hrs ago. Friday. We all lose. Sun Sep 16 02:07:38 +0000 2012
Line 1525: @QuadCityPat @angryblacklady @vdaze @anibundel You mean, "paws"? #groanaway Sun Sep 16 02:00:12 +0000 2012
Line 1527: @vdaze :-) Sun Sep 16 01:43:32 +0000 2012
Line 1528: @vdaze I said Friday, it turned out to be Saturday. Do I win the pool? Sun Sep 16 01:01:12 +0000 2012
Line 1530: @vdaze Eh, I'll live… I'm tougher than I look :) Sat Sep 15 23:08:02 +0000 2012
Line 1531: @vdaze Well, I've been at about 50% health today, so I can justify. :) Sat Sep 15 23:05:31 +0000 2012
Line 1532: @vdaze Yes. We are. :P Sat Sep 15 23:03:34 +0000 2012
Line 1533: @vdaze I've taken two today… need two more, I think… :) Sat Sep 15 23:02:29 +0000 2012
Line 1594: @vdaze Thank you :) Thu Sep 13 23:11:56 +0000 2012
Line 1595: @vdaze BTW, they have another great place here called Planned Pethood. Wonder if the RW will try to shut it down. Thu Sep 13 23:11:30 +0000 2012
Line 1596: @vdaze Yeah, I think he'll be okay in a few days… Thu Sep 13 23:10:34 +0000 2012
Line 1618: @vdaze @DailyDriveler Certainly an appropriate name in this context. :) Thu Sep 13 01:53:37 +0000 2012
Line 1652: @vdaze Most people with imaginary advisers could use a Xanax. Or three. Wed Sep 12 03:13:00 +0000 2012
Line 1656: @vdaze Women meddle? who knew? Wed Sep 12 01:47:48 +0000 2012
Line 1657: @D_v_E @vdaze My apologies… :) I'm likely to need Depends before you… Wed Sep 12 01:47:14 +0000 2012
Line 1664: @D_v_E @vdaze You weren't the one making the "test leaks." Wed Sep 12 01:37:57 +0000 2012
Line 1666: @D_v_E @vdaze Depends? Wed Sep 12 01:34:01 +0000 2012
Line 1677: @vdaze I'm pretty well guided… :) Wed Sep 12 00:36:07 +0000 2012
Line 1690: @vdaze Oh, so now you laugh at me… real nice… :P Tue Sep 11 19:53:54 +0000 2012
Line 1694: @vdaze No. I can't. I'm too big a wuss. ;) Tue Sep 11 19:20:38 +0000 2012
Line 1746: @vdaze As I always say… joke 'em if they can't take a fuck. :) Mon Sep 10 22:18:45 +0000 2012
Line 1747: @vdaze His "henchman" will probably step it up… but he's really a non-entity… Mon Sep 10 22:17:47 +0000 2012
Line 1753: @vdaze @Semishark Unbelievable… And yet, not really. Mon Sep 10 21:53:15 +0000 2012
Line 1787: @vdaze @markbachrach Yes, but he's killing her softly… with his song… Mon Sep 10 15:47:39 +0000 2012
Line 1795: @vdaze Peeplz is silly. Mon Sep 10 02:47:20 +0000 2012
Line 1796: @vdaze You in the habit of being threatened with baseless lawsuits? :) Mon Sep 10 02:44:13 +0000 2012
Line 1798: @vdaze Speaking of which, isn't this "normal". ;-) Mon Sep 10 02:35:31 +0000 2012
Line 1799: @vdaze Can you at least favorite the ones that aren't fucking? I'm desperate for attention. :) Mon Sep 10 02:35:00 +0000 2012
Line 1811: @AngryBlackLady @shopaholic_918 @vdaze I am not impressed with the level of self-destruction he seems intent on. Sun Sep 09 19:55:00 +0000 2012
Line 1813: @AngryBlackLady @Shopaholic_918 @vdaze Don't seem all that smart to me. :) Sun Sep 09 19:12:17 +0000 2012
Line 1844: @vdaze that would be worth seeing. :) Sun Sep 09 04:12:36 +0000 2012
Line 1845: @vdaze Nuh uh… I'll pertect y'all :) Sun Sep 09 04:05:56 +0000 2012
Line 1846: OMG OMG!!!! I lost two followers! Do people hate me? Am I overreacting? Do I sound like a little girl? @vdaze :) Sun Sep 09 04:04:08 +0000 2012
Line 1849: @vdaze Far as I can tell, he hasn't taken his own advice… Sun Sep 09 00:38:23 +0000 2012
Line 1851: @vdaze Did you know one of the keys ways to avoid cyberslander was to ignore the slanderer? :) Sun Sep 09 00:35:49 +0000 2012
Line 1852: @vdaze Wow, the pot is calling the kettle black for sure… Sun Sep 09 00:25:53 +0000 2012
Line 1869: @vdaze :P Sat Sep 08 23:17:41 +0000 2012
Line 1872: @vdaze You know, when I say I'm "letting it go," i actually let it go. Obsession is not a good trait… He needs to actually let it go. Sat Sep 08 21:27:38 +0000 2012
Line 1886: @vdaze @JustCindeh Shit. I tried to RT that, but I couldn't. Dayum… Sat Sep 08 03:29:44 +0000 2012
Line 1893: @vdaze Um, sure. She doesn't even know me/us. :) Sat Sep 08 03:00:34 +0000 2012
Line 1894: @vdaze Hope he didn't see that. He might beat me up. :) Sat Sep 08 02:58:15 +0000 2012
Line 1895: @vdaze Paranoia should not be taken lightly… Just sayin… Sat Sep 08 02:50:39 +0000 2012
Line 1896: @vdaze Bullying is bullying. period. There are no degrees. Although watching a grown man whine like a little girl is, um, interesting… Sat Sep 08 02:06:48 +0000 2012
Line 1906: @vdaze Jesus. This is just sad. Such a conspiracy you guys have… :) Sat Sep 08 00:11:47 +0000 2012
Line 1909: @AngryBlackLady @vdaze @dailydriveler @sherriegg They made me eat some when I was down under. Won't eat it twice. :) Fri Sep 07 23:44:53 +0000 2012
Line 1914: @vdaze Besides, I know your support doesn't come courtesy of socks. :) Fri Sep 07 22:57:02 +0000 2012
Line 1915: @vdaze Um, you're welcome? :) Fri Sep 07 22:53:05 +0000 2012
Line 1940: @vdaze I second that. I'd say she was adorable, but it might look like I overuse that word. :) Fri Sep 07 01:15:40 +0000 2012
Line 1973: @vdaze Heh. Thu Sep 06 03:25:14 +0000 2012
Line 1985: @vdaze @AngryBlackLady Oh, go ahead. Respond. You know you can say anything to me… I won't even call a lawyer. Thu Sep 06 01:59:51 +0000 2012
Line 1987: @vdaze @AngryBlackLady Nah… it's free :) Thu Sep 06 01:51:37 +0000 2012
Line 1989: @AngryBlackLady @vdaze Maybe that's it. I'm using Windows 8. :) Thu Sep 06 01:47:13 +0000 2012
Line 1990: @vdaze @AngryBlackLady I've never understood what white guys have to be angry about. Thu Sep 06 01:29:38 +0000 2012
Line 1992: @vdaze I guffawed at the request for a defamation lawyer… I'm glad I had just peed. Wed Sep 05 23:26:25 +0000 2012
Line 2005: @vdaze You know my side. I don't cotton to bullies. Period. Wed Sep 05 14:36:10 +0000 2012
Line 2006: @vdaze Good. :) Wed Sep 05 14:35:15 +0000 2012
Line 2050: @vdaze @AngryBlackLady <3 <3 for both of yas. Hang in… Tue Sep 04 23:43:34 +0000 2012
Line 2091: @vdaze Nope.:) Sun Sep 02 05:04:28 +0000 2012
Line 2105: @vdaze @janieo You're both just horrible. And I love you both dearly.. what's wrong with me? :) Fri Aug 31 23:24:40 +0000 2012
Line 2291: @vdaze The joys of working at home. hopefully, you're not near Perry Hall. I know Baltimorons well. Ppl will drive by just to "see it" today Tue Aug 28 12:35:59 +0000 2012
Line 2311: @vdaze Well, some people are just a little too prickly to be discoursing with others. Others are just pricks. :) Mon Aug 27 17:34:45 +0000 2012
Line 2314: @vdaze Some people just don't appreciate you… :) Mon Aug 27 16:39:44 +0000 2012
Line 2315: @vdaze Yeah, I know. Sorry about that… :) Mon Aug 27 16:32:37 +0000 2012
Line 2319: @vdaze You really do pay attention… :) Muah! Mon Aug 27 13:46:47 +0000 2012
Line 2447: @vdaze I know you do… Fri Aug 24 22:18:16 +0000 2012
Line 2448: @vdaze See, I'm one of those who understands that you don't know everyone you Tweet with… winkwinknudgenudge… meow. :) Fri Aug 24 22:10:57 +0000 2012
Line 2449: @vdaze If you need anything… wait… I don't know you, so I guess that proves you right… :) Fri Aug 24 22:07:27 +0000 2012
Line 2705: @vdaze @AngryBlackLady Better to be pissed off than pissed on… Sun Aug 19 03:22:17 +0000 2012
Line 2706: @AngryBlackLady @vdaze Wow. Deja vu! Sun Aug 19 03:21:41 +0000 2012
Line 2712: @vdaze Uh huh. :) Sun Aug 19 03:03:49 +0000 2012
Line 2714: @vdaze My point is, dearest Jessica, is that you're awesome because you speak your mind… sheesh. Sun Aug 19 03:02:08 +0000 2012
Line 2715: @vdaze Long time ago. I'm sure I deserved it. :) Sun Aug 19 03:00:48 +0000 2012
Line 2716: @vdaze Well, you have yelled at me before. Unlike many, I got over it. :) Sun Aug 19 02:59:39 +0000 2012
Line 2718: @vdaze Oh, don't I know it. :) Sun Aug 19 02:54:26 +0000 2012
Line 2720: @vdaze I actually prefer women who speak their mind. I'm weird that way. :) Sun Aug 19 02:52:22 +0000 2012
Line 2722: @vdaze Jessica… I will always follow you anywhere… :) Sun Aug 19 02:48:04 +0000 2012
Line 2729: @AngryBlackLady @vdaze Well, I'm not there. Are you sure you're not hearing voices? Sometimes, it's the cat… :) Sun Aug 19 02:30:20 +0000 2012
Line 2731: @AngryBlackLady @vdaze Why? You never call me… :P :) Sun Aug 19 01:46:45 +0000 2012
Line 2882: @vdaze Just stay the same… You're awesome. :) Thu Aug 16 02:48:31 +0000 2012
Line 2883: @vdaze Oh, please… I don't know you all that well, but even I know you do your own thing…:) Thu Aug 16 02:46:42 +0000 2012
Line 2888: @vdaze Wait… I'm still allowed, right? I mean, I try not to abuse the privilege. And it is a privilege. :) Thu Aug 16 02:31:35 +0000 2012
Mentions only of "@Shoq" since Sept 19th, 2012 (82 hits… in only past 13 days) Back To Index
Line 4: @Xistnt @Shoq @SadlerTX I'll take a look… I agree, that's an important race, cuz Cruz is a bit of a loon. Tue Oct 02 21:01:59 +0000 2012
Line 41: @Stranahan @francie57 @GottaLaff To be fair, though, Rauhauser did one thing for @Shoq. He's really not associated with the Matts at all. Tue Oct 02 18:26:12 +0000 2012
Line 49: Of course, @Shoq still needs to apologize for the threats against others, so it's just a "modicum." Tue Oct 02 18:13:04 +0000 2012
Line 50: @Shoq has removed his despicable Tweets, so I will at least acknowledge a modicum of reason. He needs to stick to politics. Tue Oct 02 18:12:22 +0000 2012
Line 63: @babawoowa @Shoq Well, he does make some good observations. His feed is not a bad follow, when he's not engaged in personal vendetta Tue Oct 02 17:01:55 +0000 2012
Line 66: @babawoowa @Shoq If you don't have contact with him, there's no problem. Tue Oct 02 16:57:00 +0000 2012
Line 433: @realtybird @Shoq Then read away! :) Sun Sep 30 14:47:41 +0000 2012
Line 437: Ok, as I said in the piece I wrote yesterday, I am done with the Shoq Twitter drama. Go read at http://t.co/uEsV8w60. No more in my TL, tho. Sun Sep 30 14:36:22 +0000 2012
Line 439: @wicked_cricket @shoq I've been EXTREMELT limited in my responses. Almost never. And he is blocked. Sun Sep 30 13:28:41 +0000 2012
Line 440: RT @Shoq: .@MiltShook Your post was no different than what Breitbart and Malkin do every day. A lot of smear and allegation PACKAGED as … Sun Sep 30 13:21:43 +0000 2012
Line 476: @livecut Nope… I won't. I won't see anything they say about me. I don't care. I just don't like bullies. @Shoq is a bully. Period. Sun Sep 30 04:24:04 +0000 2012
Line 480: @QuadCityPat @iboudreau @myownpetard @fleetadmiralj @Shoq Oh. :) Sun Sep 30 04:14:58 +0000 2012
Line 501: RT @Shoq: Folks, @MiltShook has done a hit piece for his friends @AngryBlackLady & @vdaze. When you see his role, you'll get it. #p … Sun Sep 30 03:41:16 +0000 2012
Line 511: RT @Shoq: .@MiltShook Unless you can prove otherwise, you had better retract it. Those images were exact shots. As will be yours Sun Sep 30 01:31:56 +0000 2012
Line 514: @Shoq Fuck you. Sue me. Back on block. Sun Sep 30 01:23:49 +0000 2012
Line 516: @pudcast245 @Shoq I can spell b-l-o-c-k. Sun Sep 30 01:13:37 +0000 2012
Line 520: @SeaSunMarisol @shoq @osborneink You read the 1st graph of a 4000 word piece. You know nothing. Sat Sep 29 23:32:28 +0000 2012
Line 526: @Left_In_PEI @Shoq @OsborneInk I wish I didn't have to. sigh. Sat Sep 29 21:59:36 +0000 2012
Line 529: I apologize to those who don't care about the whole @Shoq garbage for my earlier Tweet. I didn't infect my main blog with it. Sat Sep 29 21:56:03 +0000 2012
Line 534: The "Burn Notice" Burn Notice: Stop the Madness, Matts http://t.co/nm3ZizNt @Shoq @osborneink Sat Sep 29 21:44:49 +0000 2012
Line 671: @AngryBlackLady @Shoq I never have… there's always been something OCD. Thu Sep 27 05:57:09 +0000 2012
Line 673: @AngryBlackLady @Shoq He is. We both know he knows better. Thu Sep 27 05:55:21 +0000 2012
Line 768: @BrnEyeSuss @vdaze Their life is fine. Everyone is free to ignore them. I ignored Shoq and Osborne and life is good again. Wed Sep 26 01:15:58 +0000 2012
Line 991: @Shoq And with that, you're blocked. I only discuss politics, as I promised earlier. Find someone else to listen to you whine. Mon Sep 24 17:50:43 +0000 2012
Line 992: @Shoq Not big on the whole irony thing, I see. Mon Sep 24 17:48:41 +0000 2012
Line 994: @Shoq You would, as usual, be wrong. Mon Sep 24 17:39:43 +0000 2012
Line 1043: @OsborneInk @shoq There are no "facts" in this piece. There is a POV, nothing more. I find the whole thing petty and beneath you both. Mon Sep 24 11:21:45 +0000 2012
Line 1275: @Stranahan @Shoq @brooksbayne I have no interest in digging dirt on Shoq, and Hahn/Bayne are non-entities and a waste of time. Thu Sep 20 16:24:15 +0000 2012
Line 1275: @Stranahan @Shoq @brooksbayne I have no interest in digging dirt on Shoq, and Hahn/Bayne are non-entities and a waste of time. Thu Sep 20 16:24:15 +0000 2012
Line 1276: @Stranahan @Shoq Not really. I just tell the truth. Thu Sep 20 16:17:24 +0000 2012
Line 1301: @vdaze @AngryBlackLady @karoli Just gonna say this. I'm an outsider in all this, and there is a long, serious pattern of abuse by @Shoq. Wed Sep 19 20:41:33 +0000 2012
Mentions only of "@angryblacklady" since August 11th, 2012 (67 hits… in only past 17 days) Back To Index
Line 280: @AngryBlackLady Yes, but the shirt is a Hugo Boss. Mon Oct 01 14:46:20 +0000 2012
Line 382: @AngryBlackLady How's the herd today? You all thinking alike and thinking of nothing but cats? Sun Sep 30 22:56:12 +0000 2012
Line 501: RT @Shoq: Folks, @MiltShook has done a hit piece for his friends @AngryBlackLady & @vdaze. When you see his role, you'll get it. #p … Sun Sep 30 03:41:16 +0000 2012
Line 502: @AngryBlackLady apparently a newbie. Every Californian knows shirtless is the style. Except in the Fatburger on Lincoln… Sun Sep 30 03:39:21 +0000 2012
Line 569: @AngryBlackLady @ExtremeLiberal Strange. I'm watching Alfred Hitchcock Presents right now… Fri Sep 28 04:40:57 +0000 2012
Line 572: @AngryBlackLady I just watched it. The butler did it. Fri Sep 28 04:14:13 +0000 2012
Line 595: @AngryBlackLady @JustCindeh I dare you to drink more… :) Thu Sep 27 23:28:26 +0000 2012
Line 616: @vdaze @AngryBlackLady @HoneybadgerLA The lyrics are stunningly accurate. :) Thu Sep 27 19:05:49 +0000 2012
Line 620: I wanna Rule The World: http://t.co/SwaGG0VZ //When I hear this these days, I think of a black cat @vdaze @angryblacklady @honeybadgerla Thu Sep 27 18:41:59 +0000 2012
Line 671: @AngryBlackLady @Shoq I never have… there's always been something OCD. Thu Sep 27 05:57:09 +0000 2012
Line 672: @AngryBlackLady The word is pathetic. Like watching a 3 month old flailing as they learn to swim… Thu Sep 27 05:56:18 +0000 2012
Line 673: @AngryBlackLady @Shoq He is. We both know he knows better. Thu Sep 27 05:55:21 +0000 2012
Line 690: @AngryBlackLady I just read that Osborne POS and now your TL. Those people sure can lie. Do they think emails disappear when they delete em? Thu Sep 27 04:30:42 +0000 2012
Line 725: @AngryBlackLady Any wonder they're a red state? Wed Sep 26 16:54:29 +0000 2012
Line 753: @AngryBlackLady @TheScottFinley @XanxiuZ @meadowgirl @QuadCityPat You know I'm not. :) Wed Sep 26 02:44:17 +0000 2012
Line 755: @AngryBlackLady @TheScottFinley @XanxiuZ @meadowgirl @QuadCityPat You're making me fear coming out there to meet you guys for coffee :) Wed Sep 26 02:27:30 +0000 2012
Line 757: @AngryBlackLady @TheScottFinley @XanxiuZ @meadowgirl @QuadCityPat I hav never felt more straitlaced. :) Wed Sep 26 02:22:47 +0000 2012
Line 760: @AngryBlackLady @QuadCityPat @TheScottFinley What? And I tried to hard to learn to dance and everything… ooohhhh ;) Wed Sep 26 01:32:30 +0000 2012
Line 805: @vdaze @raine1967 @AngryBlackLady It's proof anyone can have a "show" these days. Makes me rethink democracy. :) Tue Sep 25 21:21:10 +0000 2012
Line 925: @AngryBlackLady You're not the crazy one, to be sure… Mon Sep 24 23:59:55 +0000 2012
Line 1029: @AngryBlackLady No one did. They're nuts if they think this is rehabbing his image. Mon Sep 24 15:04:19 +0000 2012
Line 1046: @AngryBlackLady @chirpstory @indexedat0 @iboudreau Jesus, he's a piece of work. He simply can't see beyond his nose… Mon Sep 24 04:34:05 +0000 2012
Line 1127: @AngryBlackLady I'd say it's more likely his tiny penis made him create Feminazis… Sat Sep 22 21:49:36 +0000 2012
Line 1141: @AngryBlackLady @HalSparks You guys rock… good job! Sat Sep 22 18:00:59 +0000 2012
Line 1144: @AngryBlackLady Oh, don't ever change… always be yourself… :) Sat Sep 22 15:59:19 +0000 2012
Line 1284: @AngryBlackLady No excuses at all… Thu Sep 20 04:42:26 +0000 2012
Line 1298: @vdaze @AngryBlackLady @Karoli You know you don't have to thank me. :) Wed Sep 19 21:04:14 +0000 2012
Line 1299: @vdaze @AngryBlackLady @karoli Now, I'm going back to politics. It's not a soap opera. I just had to say that. FIVE is too many. Wed Sep 19 20:43:45 +0000 2012
Line 1300: @vdaze @AngryBlackLady @karoli I promised to stay out publicly, but I know of FIVE, and I'm so clueless, I had no idea re him/Jessica. Wed Sep 19 20:42:59 +0000 2012
Line 1301: @vdaze @AngryBlackLady @karoli Just gonna say this. I'm an outsider in all this, and there is a long, serious pattern of abuse by @Shoq. Wed Sep 19 20:41:33 +0000 2012
Line 1345: @AngryBlackLady You said it. Too bad that Mitt Romney brought it up again. Guess some people will have to go back into hiding. Tue Sep 18 21:45:33 +0000 2012
Line 1479: @AngryBlackLady Oh, hell, all anyone with half a brain has to do is follow the news. Those took no time… Sun Sep 16 23:09:29 +0000 2012
Line 1512: @AngryBlackLady I thought only black cats were that full of gas. Sun Sep 16 02:55:23 +0000 2012
Line 1514: @vdaze @AngryBlackLady My call would be "moronic," but "crazy" works, too Sun Sep 16 02:47:19 +0000 2012
Line 1515: @QuadCityPat @vdaze @AngryBlackLady I have to say, RJ is more obviously psychotic :) Sun Sep 16 02:46:42 +0000 2012
Line 1516: @AngryBlackLady @vdaze Well, that just showed you! Neener neener. Next, he'll endorse RJ Sun Sep 16 02:40:36 +0000 2012
Line 1524: @QuadCityPat @AngryBlackLady @anibundel @angryblacklady @vdaze I was curious, so I just checked. Came back 23 hrs ago. Friday. We all lose. Sun Sep 16 02:07:38 +0000 2012
Line 1524: @QuadCityPat @AngryBlackLady @anibundel @angryblacklady @vdaze I was curious, so I just checked. Came back 23 hrs ago. Friday. We all lose. Sun Sep 16 02:07:38 +0000 2012
Line 1525: @QuadCityPat @angryblacklady @vdaze @anibundel You mean, "paws"? #groanaway Sun Sep 16 02:00:12 +0000 2012
Line 1809: @AngryBlackLady Because you look good doin' it. :) Sun Sep 09 21:28:23 +0000 2012
Line 1811: @AngryBlackLady @shopaholic_918 @vdaze I am not impressed with the level of self-destruction he seems intent on. Sun Sep 09 19:55:00 +0000 2012
Line 1813: @AngryBlackLady @Shopaholic_918 @vdaze Don't seem all that smart to me. :) Sun Sep 09 19:12:17 +0000 2012
Line 1909: @AngryBlackLady @vdaze @dailydriveler @sherriegg They made me eat some when I was down under. Won't eat it twice. :) Fri Sep 07 23:44:53 +0000 2012
Line 1985: @vdaze @AngryBlackLady Oh, go ahead. Respond. You know you can say anything to me… I won't even call a lawyer. Thu Sep 06 01:59:51 +0000 2012
Line 1987: @vdaze @AngryBlackLady Nah… it's free :) Thu Sep 06 01:51:37 +0000 2012
Line 1989: @AngryBlackLady @vdaze Maybe that's it. I'm using Windows 8. :) Thu Sep 06 01:47:13 +0000 2012
Line 1990: @vdaze @AngryBlackLady I've never understood what white guys have to be angry about. Thu Sep 06 01:29:38 +0000 2012
Line 2050: @vdaze @AngryBlackLady <3 <3 for both of yas. Hang in… Tue Sep 04 23:43:34 +0000 2012
Line 2130: @AngryBlackLady I rarely scream and yell at anyone. It's a waste of energy. And I limit my "name-calling" to what they say. Thu Aug 30 22:47:27 +0000 2012
Line 2304: @NLuvWitUOnly All credit goes to @angryblacklady. She's funny; who knew? :) Mon Aug 27 18:54:32 +0000 2012
Line 2639: Lady-parts Diagram http://t.co/xFQ6IC96 via @AngryBlackLady Tue Aug 21 01:52:14 +0000 2012
Line 2705: @vdaze @AngryBlackLady Better to be pissed off than pissed on… Sun Aug 19 03:22:17 +0000 2012
Line 2706: @AngryBlackLady @vdaze Wow. Deja vu! Sun Aug 19 03:21:41 +0000 2012
Line 2729: @AngryBlackLady @vdaze Well, I'm not there. Are you sure you're not hearing voices? Sometimes, it's the cat… :) Sun Aug 19 02:30:20 +0000 2012
Line 2731: @AngryBlackLady @vdaze Why? You never call me… :P :) Sun Aug 19 01:46:45 +0000 2012
Line 2790: @theboltchick @ShoqFullONuts @DrJenGunter @AngryBlackLady @realsaramerica Thank you! Sat Aug 18 00:43:11 +0000 2012
Line 2812: @AngryBlackLady Put it this way. if you can read CBO report on Obamacare/Medicare and think ACA cuts Medicare, you cant read. #justsayin Fri Aug 17 20:22:52 +0000 2012
Line 2814: @AngryBlackLady Basic literacy would be nice :) Fri Aug 17 20:11:44 +0000 2012
Line 2838: @ArrogantDemon @AngryBlackLady She's finished. There's nothing to watch now. :) Fri Aug 17 16:07:37 +0000 2012
Line 2839: @AngryBlackLady Good job on HuffPost Live… you're not only smart as a whip, you're quite, um, fetching. :) Fri Aug 17 16:03:50 +0000 2012
Line 2874: @ferallike @ThundarKitteh @asiangrrlMN @DeeLoralei @monicaisliberal @AngryBlackLady @desertcronenm Thanks. I'm not orange, either. Thu Aug 16 04:18:51 +0000 2012
Line 2875: @ThundarKitteh @asiangrrlMN @ferallike @DeeLoralei @monicaisliberal @AngryBlackLady @desertcronenm Yeah, it doesn't get much more opposite. Thu Aug 16 03:54:14 +0000 2012
Line 2876: @DeeLoralei @monicaisliberal @ThundarKitteh @asiangrrlMN @AngryBlackLady @ferallike @desertcronenm Well… I meant it both ways. :) Thu Aug 16 03:21:36 +0000 2012
Line 2879: @DeeLoralei @monicaisliberal @ThundarKitteh @asiangrrlMN @AngryBlackLady @ferallike @desertcronenm I always stand with you guys… :) Thu Aug 16 03:07:13 +0000 2012
Line 2881: @monicaisliberal @ThundarKitteh @asiangrrlMN @AngryBlackLady @DeeLoralei @ferallike @desertcronenm You're such a joiner. :P Thu Aug 16 03:03:54 +0000 2012
Line 3062: RT @Emilia1956: @OsborneInk @AngryBlackLady @ExtremeLiberal @MarkBrooksVA @MiltShook @vcthree Hoos Left?: Paul Ryan Playing Mr Potter ht … Mon Aug 13 13:58:17 +0000 2012
Line 3142: @AngryBlackLady @monicaisliberal That's funny. I wore big black glasses when I was a kid and was called "dork." Sat Aug 11 00:11:40 +0000 2012
Mentions only of "@honeybadgerLA" since Sept 19th, 2012 (10 hits… in only past 13 days) Back To Index
Line 121: @HoneybadgerLA @asiangrrlmn @meadowgirl My son hates bacon. :-) and he served our nation honorably. :) Tue Oct 02 04:25:57 +0000 2012
Line 616: @vdaze @AngryBlackLady @HoneybadgerLA The lyrics are stunningly accurate. :) Thu Sep 27 19:05:49 +0000 2012
Line 620: I wanna Rule The World: http://t.co/SwaGG0VZ //When I hear this these days, I think of a black cat @vdaze @angryblacklady @honeybadgerla Thu Sep 27 18:41:59 +0000 2012
Line 687: @vdaze @HoneybadgerLA Are you kidding? He orchestrates every word. I'll save details for my testimony, though. Thu Sep 27 04:34:47 +0000 2012
Line 842: @HoneybadgerLA Aw, gawrsh… Tue Sep 25 18:55:46 +0000 2012
Line 844: @HoneybadgerLA Intimidated by them? I'm attracted to them. Most of my best friends are strong women… :) Tue Sep 25 18:53:47 +0000 2012
Line 846: @HoneybadgerLA Aww, thanks… I'm just me… Tue Sep 25 18:50:22 +0000 2012
Line 983: @HoneybadgerLA He just seems oblivious to the fact that he's doing more damage to his own rep than anyone else could have done. Mon Sep 24 18:05:34 +0000 2012
Line 1195: @HoneybadgerLA @GottaLaff You know I love you, too… :) Fri Sep 21 20:31:31 +0000 2012
Line 1294: @HoneybadgerLA @vdaze The image of the merged head/ass is gonna give me nightmares. depending on where it merged… eeek.. Wed Sep 19 21:30:13 +0000 2012
Mentions only of "@gottalaff" since Aug 18th, 2012 (55 hits… in only past 24 days) Back To Index
Line 23: @Stranahan @francie57 @GottaLaff Oh, come on, What free time. He programs his posts into Hootsuite. Takes no time at all. Tue Oct 02 18:59:29 +0000 2012
Line 24: @Stranahan @francie57 @GottaLaff I have a different theory.Hootsuite is only $6-10/month… and he has a lot of free time. Tue Oct 02 18:52:55 +0000 2012
Line 25: @Stranahan @francie57 @GottaLaff Randy is still largely a non-entity. If everyone would ignore him, he'd fade. Tue Oct 02 18:50:46 +0000 2012
Line 27: @Kernelwars @keriRN @GottaLaff @vdaze @Jennyjinx Agreed. Tue Oct 02 18:47:54 +0000 2012
Line 29: @GottaLaff @Kernelwars It's the top post at http://t.co/uEsV8w60. I couldn't bring myself to put it on my regular blog… Tue Oct 02 18:42:02 +0000 2012
Line 30: @GottaLaff I means you've never been persona non grata to me… Tue Oct 02 18:41:05 +0000 2012
Line 31: @GottaLaff Of course it wasn't you guys… sheesh… Tue Oct 02 18:38:02 +0000 2012
Line 32: @GottaLaff August 30. He may not feel that way now. If he's paying attention. Tue Oct 02 18:36:14 +0000 2012
Line 33: @GottaLaff The Matts and Neal Rauhauser. Tue Oct 02 18:35:46 +0000 2012
Line 35: @Stranahan @francie57 @GottaLaff I don't care. They're persona non grata to me. And I have my own connections. Off Twitter. Tue Oct 02 18:33:12 +0000 2012
Line 36: @GottaLaff That's disappointing. Tue Oct 02 18:32:25 +0000 2012
Line 37: @GottaLaff @Stranahan @francie57 He was talking about the cat's connections with OFA, Van Jones. I'm not convinced. Tue Oct 02 18:30:35 +0000 2012
Line 39: @Stranahan @francie57 @GottaLaff We assume they do, because they tell us so. I'm not so sure… Tue Oct 02 18:28:38 +0000 2012
Line 40: @Kernelwars @GottaLaff @vdaze @Jennyjinx He's telling everyone that's the case, but no. It's not. Tue Oct 02 18:27:07 +0000 2012
Line 41: @Stranahan @francie57 @GottaLaff To be fair, though, Rauhauser did one thing for @Shoq. He's really not associated with the Matts at all. Tue Oct 02 18:26:12 +0000 2012
Line 42: @Stranahan @francie57 @GottaLaff I know. I don't like it any more when it comes from our side. I may hit you on politics, never your family. Tue Oct 02 18:25:23 +0000 2012
Line 44: @GottaLaff @vdaze @Jennyjinx He's still referring to the piece I wrote as a "hit piece." Where's the hit? I showed the bullying. Tue Oct 02 18:23:25 +0000 2012
Line 48: @vdaze @GottaLaff Ewww… I'm glad I didn't take a screenshot of that. There went my lunch. :) Tue Oct 02 18:16:35 +0000 2012
Line 55: @francie57 @GottaLaff If what @Stranahan and others say has been done to them is true, the ppl doing it are NOT "progressive." Tue Oct 02 17:33:35 +0000 2012
Line 56: @francie57 @GottaLaff His minions think it's perfectly okay to smear others who disagree with you. I disagree, even when they're RW… Tue Oct 02 17:32:48 +0000 2012
Line 418: @GottaLaff @MonaB2010 @JasonLeopold Look, I'd be a hypocrite if I suddenly became his best buddy. But I'll give him a chance. Relax. :) Sun Sep 30 18:13:03 +0000 2012
Line 419: @officiallyben @Picassokat @GottaLaff @JasonLeopold It's like lancing a boil to keep the infection from spreading. :) Sun Sep 30 18:11:39 +0000 2012
Line 423: @GottaLaff @JasonLeopold No promises. Just know that I don't see political disagreements as personal, ever. I'm not the cat, in any way. Sun Sep 30 17:46:18 +0000 2012
Line 424: @GottaLaff @JasonLeopold I'm about 95% fair. I'd say 100%, but I am human, and only a little arrogant. Sun Sep 30 17:43:13 +0000 2012
Line 426: @GottaLaff @JasonLeopold It's all good. The hatchet is buried, and I'll keep an open mind. :) Sun Sep 30 17:40:24 +0000 2012
Line 966: @GottaLaff @Jennyjinx No problem. He repeated what you know who gave him. Those are not "facts." Mon Sep 24 19:57:56 +0000 2012
Line 967: @Jennyjinx @GottaLaff They can hang elsewhere.:) Mon Sep 24 19:56:40 +0000 2012
Line 968: @GottaLaff @Jennyjinx Quite… my eyes are opened for good now… done a lot of blocking today… :) Mon Sep 24 19:54:15 +0000 2012
Line 969: @GottaLaff and rightfully so… Mon Sep 24 19:50:30 +0000 2012
Line 971: @GottaLaff Well, they used to say they were progs, but they're acting like RWers. Mon Sep 24 19:45:40 +0000 2012
Line 973: @GottaLaff Yeah, I spoke up loudly about it for a while this morning, and I'm still being bombarded with socks. Pathetic is right. Mon Sep 24 19:44:01 +0000 2012
Line 1076: @GottaLaff @vdaze I always thought it was just a product of growing up. You can only blame others for so long… Sun Sep 23 21:10:55 +0000 2012
Line 1077: @GottaLaff @vdaze How does someone get to be his age and not understand that we OWN everything we say or do? I got that when I was 25… Sun Sep 23 21:05:58 +0000 2012
Line 1190: @rebeccayorkart @GottaLaff @francie57 I never stopped following her… I actually read her blog and RT regularly. :) Fri Sep 21 20:37:37 +0000 2012
Line 1191: @rebeccayorkart @GottaLaff @francie57 @vdaze Me too… I can promise one thing; I will no longer remain quiet. I am paying attention. Fri Sep 21 20:36:48 +0000 2012
Line 1192: @francie57 @rebeccayorkart @GottaLaff @vdaze I thought that was Al Gore… Fri Sep 21 20:34:41 +0000 2012
Line 1193: @GottaLaff @francie57 @rebeccayorkart @vdaze Yeah, but fans aren't as important as friends. ;) Fri Sep 21 20:34:19 +0000 2012
Line 1194: @francie57 @rebeccayorkart @GottaLaff @vdaze If only. He's his biggest fan. :) Fri Sep 21 20:32:07 +0000 2012
Line 1195: @HoneybadgerLA @GottaLaff You know I love you, too… :) Fri Sep 21 20:31:31 +0000 2012
Line 1196: @GottaLaff Jason might be the only make I can think of that he attacked head on. I can name seven women now. One is too many, more is… Fri Sep 21 20:31:07 +0000 2012
Line 1197: @GottaLaff That's okay… adore who you like. :) Fri Sep 21 20:28:58 +0000 2012
Line 1198: @GottaLaff If I take on someone, it's because I decide to. He always tried to push me, never could. I yelled back, he couldn't handle that. Fri Sep 21 20:27:49 +0000 2012
Line 1199: @GottaLaff Well, I took on Jason, too. I limited to stuff Jason said, though. Jason got personal with me, but I didn't return it. Fri Sep 21 20:26:18 +0000 2012
Line 1200: @GottaLaff He won't. I'm a guy, and I have resources. :) Fri Sep 21 20:22:33 +0000 2012
Line 1201: @GottaLaff Well, I am fully on your side on this, and always have been. He was trying to get me to side agst you and Nicole and I refused. Fri Sep 21 20:21:36 +0000 2012
Line 1202: @GottaLaff I swear. I never saw the infamous blog post until his RW tormenters posted it. That was after I figured out he was a loon. Fri Sep 21 20:20:28 +0000 2012
Line 1203: @AbelUndercity @GottaLaff ALWAYS a woman. I'm still waiting for hm to take me on, because I've said some shit. But so far… quiet. Fri Sep 21 20:19:33 +0000 2012
Line 1204: @GottaLaff Most of my "involvement" was peripheral, and was him forcing the issue. I've never been deeply involved in his crap. Fri Sep 21 20:17:16 +0000 2012
Line 1205: @GottaLaff Yeah, It's been about 16 months. And I kept him at arm's length for most of that. I always found him bossy… Fri Sep 21 20:16:04 +0000 2012
Line 1206: @GottaLaff Keep in mind, I've only been active on Twitter for a little over a year. Fri Sep 21 20:13:53 +0000 2012
Line 1207: @GottaLaff I really didn't see them… (His blog sucks) I probably started seeing a problem about March… Fri Sep 21 20:13:32 +0000 2012
Line 1208: @GottaLaff @vdaze I only started seeing this crap in the last few months. I apologize for my ignorance… Fri Sep 21 20:09:51 +0000 2012
Line 1210: @vdaze @GottaLaff Both of you are awesome… I have all backs. :) Fri Sep 21 20:07:14 +0000 2012
Line 1585: +1: "VIDEO: Ex Michigan Gov Jennifer Granholm on the Dating Game (1978)" by @GottaLaff http://t.co/5FmEZbW5 Fri Sep 14 18:40:08 +0000 2012
Line 2741: I just followed @GottaLaff on Sulia's Politics channel. Check it out! http://t.co/ch2aErCe Sat Aug 18 22:46:38 +0000 2012
Mentions only of "@jennyjinx" since Sept 24th, 2012 (7 hits… in only past 8 days) Back To Index
Line 27: @Kernelwars @keriRN @GottaLaff @vdaze @Jennyjinx Agreed. Tue Oct 02 18:47:54 +0000 2012
Line 40: @Kernelwars @GottaLaff @vdaze @Jennyjinx He's telling everyone that's the case, but no. It's not. Tue Oct 02 18:27:07 +0000 2012
Line 44: @GottaLaff @vdaze @Jennyjinx He's still referring to the piece I wrote as a "hit piece." Where's the hit? I showed the bullying. Tue Oct 02 18:23:25 +0000 2012
Line 60: @Semishark @Jennyjinx @myownpetard @vdaze something like that… Tue Oct 02 17:28:28 +0000 2012
Line 966: @GottaLaff @Jennyjinx No problem. He repeated what you know who gave him. Those are not "facts." Mon Sep 24 19:57:56 +0000 2012
Line 967: @Jennyjinx @GottaLaff They can hang elsewhere.:) Mon Sep 24 19:56:40 +0000 2012
Line 968: @GottaLaff @Jennyjinx Quite… my eyes are opened for good now… done a lot of blocking today… :) Mon Sep 24 19:54:15 +0000 2012
Mentions only of "@stranahan" (Brietbart.com blogger) since Sept 20th, 2012 (17 hits… in only past 12 days) Back To Index
Line 21: @Stranahan I know many like that. There is often no "why." You may be applying rational thought to an irrational person. Tue Oct 02 19:03:17 +0000 2012
Line 22: @Stranahan Seriously, 80% of his posts are pre-programmed into Hootsuite. He's not even there half the time. $6/month to do that. Tue Oct 02 19:00:20 +0000 2012
Line 23: @Stranahan @francie57 @GottaLaff Oh, come on, What free time. He programs his posts into Hootsuite. Takes no time at all. Tue Oct 02 18:59:29 +0000 2012
Line 24: @Stranahan @francie57 @GottaLaff I have a different theory.Hootsuite is only $6-10/month… and he has a lot of free time. Tue Oct 02 18:52:55 +0000 2012
Line 25: @Stranahan @francie57 @GottaLaff Randy is still largely a non-entity. If everyone would ignore him, he'd fade. Tue Oct 02 18:50:46 +0000 2012
Line 26: @Stranahan Agreed. Tue Oct 02 18:50:02 +0000 2012
Line 28: @Stranahan BTW, I just saw evidence that you could be right about that. If that's the case, I'm sickened. Rauhauser's a loon. Tue Oct 02 18:44:36 +0000 2012
Line 35: @Stranahan @francie57 @GottaLaff I don't care. They're persona non grata to me. And I have my own connections. Off Twitter. Tue Oct 02 18:33:12 +0000 2012
Line 37: @GottaLaff @Stranahan @francie57 He was talking about the cat's connections with OFA, Van Jones. I'm not convinced. Tue Oct 02 18:30:35 +0000 2012
Line 39: @Stranahan @francie57 @GottaLaff We assume they do, because they tell us so. I'm not so sure… Tue Oct 02 18:28:38 +0000 2012
Line 41: @Stranahan @francie57 @GottaLaff To be fair, though, Rauhauser did one thing for @Shoq. He's really not associated with the Matts at all. Tue Oct 02 18:26:12 +0000 2012
Line 42: @Stranahan @francie57 @GottaLaff I know. I don't like it any more when it comes from our side. I may hit you on politics, never your family. Tue Oct 02 18:25:23 +0000 2012
Line 55: @francie57 @GottaLaff If what @Stranahan and others say has been done to them is true, the ppl doing it are NOT "progressive." Tue Oct 02 17:33:35 +0000 2012
Line 360: @Semishark @stranahan I do wish, however, that everyone would get away from "political TMZ" with their blogs. Mon Oct 01 00:55:34 +0000 2012
Line 361: @Semishark @stranahan It shouldn't be. Having differing opinions shouldn't make us enemies. I draw the line at bullying, not opinion. Mon Oct 01 00:54:36 +0000 2012
Line 1275: @Stranahan @Shoq @brooksbayne I have no interest in digging dirt on Shoq, and Hahn/Bayne are non-entities and a waste of time. Thu Sep 20 16:24:15 +0000 2012
Line 1276: @Stranahan @Shoq Not really. I just tell the truth. Thu Sep 20 16:17:24 +0000 2012
Mentions only of "@osborneink" since Sept 24th, 2012 (29 hits… in only past 8 days) Back To Index
Line 520: @SeaSunMarisol @shoq @osborneink You read the 1st graph of a 4000 word piece. You know nothing. Sat Sep 29 23:32:28 +0000 2012
Line 526: @Left_In_PEI @Shoq @OsborneInk I wish I didn't have to. sigh. Sat Sep 29 21:59:36 +0000 2012
Line 534: The "Burn Notice" Burn Notice: Stop the Madness, Matts http://t.co/nm3ZizNt @Shoq @osborneink Sat Sep 29 21:44:49 +0000 2012
Line 721: @KKordsmeier @OsborneInk There are no FACTS in that piece. That's all I said. And now you're blocked. You be obsessed, I'm not. Wed Sep 26 19:08:37 +0000 2012
Line 837: @KKordsmeier @OsborneInk He's blocked. Tue Sep 25 19:32:36 +0000 2012
Line 1001: @OsborneInk Elsewhere. I'm now blocking you. Make up more shit; I won't see it. Feel free to run back when he screws you over. He will. Mon Sep 24 16:33:17 +0000 2012
Line 1002: @OsborneInk I'd also point out, your have NOT seen some of the other shit that exists. He WON'T show you that. Mon Sep 24 16:27:00 +0000 2012
Line 1003: @OsborneInk You think that's the totality of it? Did you even READ the emails you posted before you wrote your screed? Mon Sep 24 16:26:26 +0000 2012
Line 1005: @OsborneInk It's a LOT more than the single VM. That's what you don't get. A LOT more. No one's trashed him as much as they COULD have. Mon Sep 24 16:25:33 +0000 2012
Line 1006: @slbbw @OsborneInk My only stand is, a certain man has a pattern of verbal abuse and needs to own it, apologize for it. REAL apology. Mon Sep 24 16:20:52 +0000 2012
Line 1008: @DAbitty @OsborneInk Done. Sorry. Mon Sep 24 16:17:58 +0000 2012
Line 1009: @OsborneInk @DAbitty No one, including @vdaze, has declared Jessica innocent on this. An ACTUAL apology would clear this up. Mon Sep 24 16:15:56 +0000 2012
Line 1010: @OsborneInk @DAbitty No. You're "protecting" someone who always gets someone else to clean up his shit. Mon Sep 24 16:15:15 +0000 2012
Line 1011: @OsborneInk BTW, did you actually READ this email? http://t.co/SvQdGAsE It actually proves Jessica's point about him. Mon Sep 24 16:14:05 +0000 2012
Line 1012: @OsborneInk Just like his Randy mess was cleaned up by other people. ahem. Mon Sep 24 16:13:34 +0000 2012
Line 1013: @OsborneInk Uh huh. Like I said… why would YOU do his dirty work for him? It's HIS mess… why is everyone else cleaning it up? Mon Sep 24 16:13:07 +0000 2012
Line 1014: @OsborneInk I might. Mon Sep 24 16:09:28 +0000 2012
Line 1015: @OsborneInk I didn't say anything about money. He asked you to write it. Mon Sep 24 16:08:28 +0000 2012
Line 1016: @OsborneInk @D_v_E Every one of them had a valid beef. Prove that wrong. Mon Sep 24 16:07:35 +0000 2012
Line 1017: @OsborneInk @D_v_E @vdaze Regardless, Edelstein isn't a victim, either. Did you actually READ his "apology"? Where's the fucking apology? Mon Sep 24 16:06:31 +0000 2012
Line 1018: @OsborneInk You actually treated the women MORE unfairly than you did "Randy." Get a clue, Matt… Mon Sep 24 16:05:41 +0000 2012
Line 1019: @OsborneInk Oh, really? You've never looked at her profile? And what was the purpose of even mentioning, except to intimidate? Mon Sep 24 16:04:57 +0000 2012
Line 1020: @OsborneInk IOW, HE fed that shit to you, and you went forward as if it was ALL "fact." But you're not a flunky, right? Mon Sep 24 16:03:50 +0000 2012
Line 1021: @OsborneInk We both know that's bullshit, don't we? I supposed you hacked his email and his Twitter account to get the evidence? Mon Sep 24 16:02:51 +0000 2012
Line 1022: @OsborneInk @cjcrew58 It was on her phone and she gave no other details. Outing the workplace of a private citizen, though, is actionable. Mon Sep 24 16:01:47 +0000 2012
Line 1023: @OsborneInk @D_v_E Why didn't the "Twitter Cat" block them and move on? Instead, he hires goons to try to "win." Foolish. Mon Sep 24 15:59:33 +0000 2012
Line 1024: @OsborneInk No Matt… I don't give a shit. That's the difference. Mon Sep 24 15:56:21 +0000 2012
Line 1025: @OsborneInk Don't. Just leave it alone. Mon Sep 24 15:53:01 +0000 2012
Line 1043: @OsborneInk @shoq There are no "facts" in this piece. There is a POV, nothing more. I find the whole thing petty and beneath you both. Mon Sep 24 11:21:45 +0000 2012
Mentions only of "@karoli since Sept 18th, 2012 (17 hits… in only past 12 days) Back To Index
Line 487: @Karoli @fleetadmiralj Who's tryng to intimidate you? I said I won't SEE anything you write about it, because I'm done. Sun Sep 30 04:04:27 +0000 2012
Line 488: RT @Karoli: @MiltShook the usual retort when I don't agree with a man is that I'm the dumb one. But of course that's never sexist. Sun Sep 30 04:03:09 +0000 2012
Line 489: @Karoli Um, Miss Integrity,I didn't call you stupid, did I? Sun Sep 30 04:03:05 +0000 2012
Line 493: @Karoli I don't care where you do it. I won't see it. It's done. If you don't think so. you're not as smart as I gave you credit for. Sun Sep 30 03:57:55 +0000 2012
Line 494: @fleetadmiralj @Karoli It's almost beside the point. The intent of the piece wasn't to defend themselves, but to intimidate women. Sun Sep 30 03:56:20 +0000 2012
Line 496: @Karoli Oh, bullshit, Karoli. It's 80 words out of 4000. Now, I've removed it. Let's see you defend the other 3920. You can't. Sun Sep 30 03:52:41 +0000 2012
Line 496: @Karoli Oh, bullshit, Karoli. It's 80 words out of 4000. Now, I've removed it. Let's see you defend the other 3920. You can't. Sun Sep 30 03:52:41 +0000 2012
Line 497: @Karoli I did. I took out all 80 words out of 4000. Now, stop ignoring the rest of it. Sun Sep 30 03:51:14 +0000 2012
Line 498: @Karoli yawn. Sun Sep 30 03:46:45 +0000 2012
Line 512: @Karoli @MiltShookYeah, but the threats and intimidation don't stand out. Save it. Sun Sep 30 01:30:33 +0000 2012
Line 515: @Karoli Seriously? A 4000 word piece full of common sense, and you're obsessing over doctored Tweets? Sun Sep 30 01:18:54 +0000 2012
Line 1298: @vdaze @AngryBlackLady @Karoli You know you don't have to thank me. :) Wed Sep 19 21:04:14 +0000 2012
Line 1299: @vdaze @AngryBlackLady @karoli Now, I'm going back to politics. It's not a soap opera. I just had to say that. FIVE is too many. Wed Sep 19 20:43:45 +0000 2012
Line 1300: @vdaze @AngryBlackLady @karoli I promised to stay out publicly, but I know of FIVE, and I'm so clueless, I had no idea re him/Jessica. Wed Sep 19 20:42:59 +0000 2012
Line 1301: @vdaze @AngryBlackLady @karoli Just gonna say this. I'm an outsider in all this, and there is a long, serious pattern of abuse by @Shoq. Wed Sep 19 20:41:33 +0000 2012
Line 1382: @Karoli I blocked both. They're pointless. Tue Sep 18 05:04:31 +0000 2012
Mentions only of "Bully" since Sept 5th, 2012 (26 hits… in only past 27 days) Back To Index
Line 7: Anti-bullying month would be a great time for everyone who's been called a bully to take a step back, assess ur behavior. Tue Oct 02 20:06:28 +0000 2012
Line 7: Anti-bullying month would be a great time for everyone who's been called a bully to take a step back, assess ur behavior. Tue Oct 02 20:06:28 +0000 2012
Line 9: October is anti-bullying month. I plan to do my part to fight it. I'm just tired of ppl thinking politics is a "blood sport." It's not. Tue Oct 02 20:03:01 +0000 2012
Line 44: @GottaLaff @vdaze @Jennyjinx He's still referring to the piece I wrote as a "hit piece." Where's the hit? I showed the bullying. Tue Oct 02 18:23:25 +0000 2012
Line 71: @Graypets The problem is, he makes a lot of threats, and then demands proof that he's a bully. No concept of irony. Tue Oct 02 16:44:22 +0000 2012
Line 75: @myownpetard @vdaze He's a pig and he's a bully, and more need to know it. Tue Oct 02 16:26:16 +0000 2012
Line 93: @dvnix Yup. Wrote a whole blog post about it. I will note, however, the bullying tone of that Tweet. He doesn't get it. Tue Oct 02 15:31:53 +0000 2012
Line 253: @Tymlee @vdaze @WarriorBanker I bet he did. He's sure trying hard to prove he's not a bully, huh? (Think he'll ever get it?) Mon Oct 01 18:23:02 +0000 2012
Line 284: @nicolesandler @HeatherEChase @DaughtersofIsis And she did it without bullying anyone. Who could imagine? :) Mon Oct 01 14:38:32 +0000 2012
Line 349: @LLLGeorge Depends on who. Some folks don't start bullying men until they're called misogynist. (And they suck at it) :-) Mon Oct 01 02:00:41 +0000 2012
Line 351: It's not about women vs. men, it's about bullying as a "reputation builder." Basic respect. Mon Oct 01 01:48:25 +0000 2012
Line 361: @Semishark @stranahan It shouldn't be. Having differing opinions shouldn't make us enemies. I draw the line at bullying, not opinion. Mon Oct 01 00:54:36 +0000 2012
Line 409: I didn't realize I had the power to make someone else act like a bully/asshole. My behavior is MY responsibility. Thought same for everyone. Sun Sep 30 18:35:53 +0000 2012
Line 416: Okay, one last one, since I'm being inundated. The "Burn notice" IS the evidence of bully behavior. Like I said… Sun Sep 30 18:15:05 +0000 2012
Line 417: @vdaze He wants "evidence" that he's a bully. He obviously didn't read what he's whining about. :) Sun Sep 30 18:14:07 +0000 2012
Line 420: @vdaze Just curious, but is it normal for someone to intimidate others to prove they're not a bully? :) Sun Sep 30 18:10:14 +0000 2012
Line 476: @livecut Nope… I won't. I won't see anything they say about me. I don't care. I just don't like bullies. @Shoq is a bully. Period. Sun Sep 30 04:24:04 +0000 2012
Line 576: @vcthree I would never appear on such a show. But i listened to it, and he sounds like a bully. The other guest was even intimidated. Fri Sep 28 03:31:34 +0000 2012
Line 578: When someone goes onto someone else's "radio show" and acts like a paranoid bully, it doesn't do much to prove he's not a bully… Fri Sep 28 03:28:08 +0000 2012
Line 578: When someone goes onto someone else's "radio show" and acts like a paranoid bully, it doesn't do much to prove he's not a bully… Fri Sep 28 03:28:08 +0000 2012
Line 889: @vdaze If you have to ask someone, "Do I seem like a bully to you?" the question doesn't even need an answer.. :) Tue Sep 25 16:33:17 +0000 2012
Line 1896: @vdaze Bullying is bullying. period. There are no degrees. Although watching a grown man whine like a little girl is, um, interesting… Sat Sep 08 02:06:48 +0000 2012
Line 1896: @vdaze Bullying is bullying. period. There are no degrees. Although watching a grown man whine like a little girl is, um, interesting… Sat Sep 08 02:06:48 +0000 2012
Line 1905: Here's an idea. When you develop a reputation as a bully, and you wish to change that, shut up. Just shut up. Just my two cents. Sat Sep 08 00:18:28 +0000 2012
Line 2001: That something doesn't rise to level of physical abuse doesn't mean it's not bullying. And cyberbullying is not okay, either. Wed Sep 05 17:49:46 +0000 2012
Line 2001: That something doesn't rise to level of physical abuse doesn't mean it's not bullying. And cyberbullying is not okay, either. Wed Sep 05 17:49:46 +0000 2012
Related
Tweet