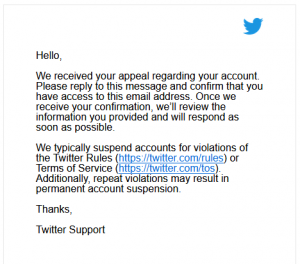 Hi friends,
Well, this sucks. I sent a few angry tweets about Left wing reprisals, Joel Pollack and @LindseyGrahamSC, but nothing i haven't said before (but those were much worse).
Evidently,Twitter's new policy won't allow any form of stridency or contempt if there's any way they can be construed as "inciting violence." Well, warning of reprisals felt more like a public service than inciting violence—but maybe it wasn't that tweet. Either way, I broke their rules, and they have a right to sanction me. I just hope it's not permanent.
I have responded with their login code and they sent me an email to confirm my address, but I still can't get on. The email said they'd "Review it"
Why so many can get back on almost immediately, after saying far worse things, but I cannot, is just beyond my understanding. But I've always worried about this. The misguided outcry from the Left about anything anyone felt was "abuse" (which Twitter never could do that much about) was bound to backlash against almost any kind of strident speech.
I suppose since the account is only "suspended," and not terminated, there's hope they will cut a 10 year veteran of Twitter (and a Twitter developer) some slack.
I don't mind your asking @Twitter about this, but please don't insult them. I should have realized that even my "edgier" tweets might be out of bounds, these days, with their latest, continually evolving guidelines.
I sure hope I will see you soon.
Shoq
Tweet